Cranberry Oatmeal Bars (Healthy + No-Bake)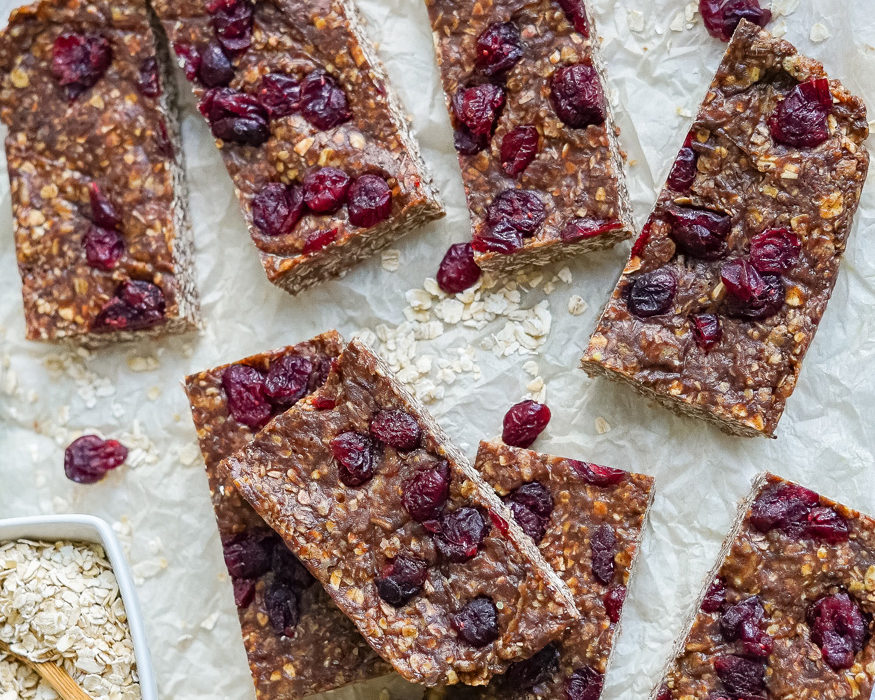 To make cranberry oatmeal bars, first, line an 8 x 8-inch pan with parchment paper.
In a saucepan over medium heat, melt coconut oil. Add maple syrup (or agave), nut butter, and whisk to combine.
Add cacao and bring to a simmer for a couple of minutes, stirring constantly. Do NOT boil!
Remove from heat.
Add oats, vanilla, crispy cereal, flax seeds, chia seeds, and shredded coconut and mix.
Transfer to an 8×8-inch baking dish, and spread out evenly. Sprinkle cranberries over the top.
Cover with a piece of parchment or plastic wrap and press firmly. This step ensures they do not crumble, so really press. You can use a glass to do this if you need some help.
Allow the bars to cool in the fridge overnight or for at least 60 mins for form.
To cut into cranberry oatmeal bars, use the paper to lift the solid block, and cut into bars (I was able to make 12 bars).
Keep in the fridge in a container for up to 5 days or freezer for up to 1 month.
Serving size:
1 bar
Calories:
212
Fat:
11.8g
Carbohydrates:
21g
Sugar:
13g
Fiber:
2.4g
Protein:
3.9g
Recipe by
The Edgy Veg
at https://www.theedgyveg.com/2021/02/16/cranberry-oatmeal-bars/