Best Vegan Mashed Potatoes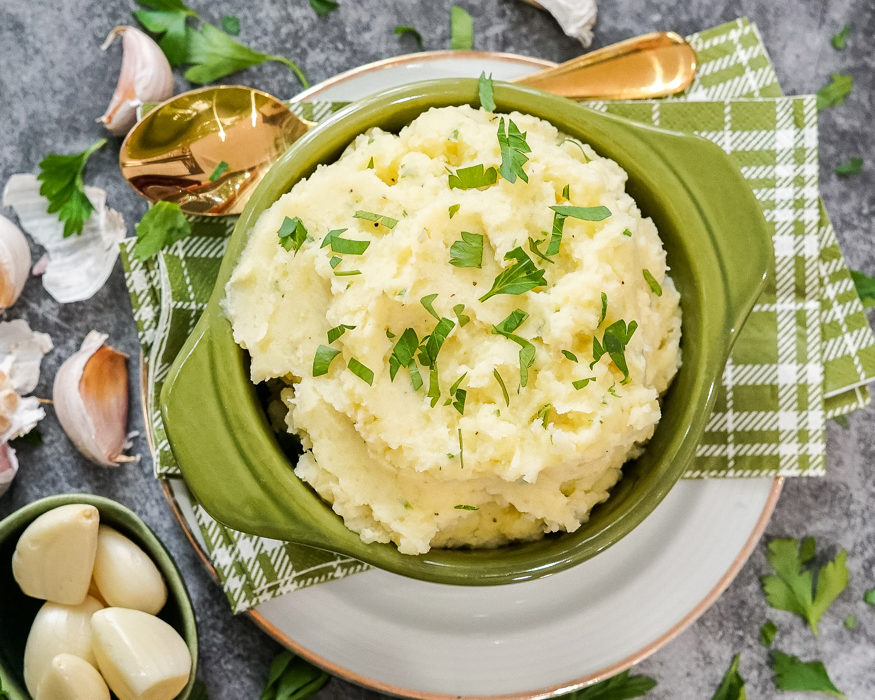 In a large pot, bring salted water to a boil.
Add peeled and chopped potatoes to the pot, cover and cook for 15 mins, or until potatoes are tender.
In a small saucepan, heat the vegan butter or margarine, and garlic, and cook for 3 mins, until fragrant, but not browning.
Pour in ½ cup of soy milk into the vegan garlic butter and bring to a simmer.
This is optional: To make the mashed potatoes extra creamy, use store-bought vegan heavy cream or in a blender, blend together ¼ cup of soy milk with ¼ cup silken tofu until smooth to make a vegan cream!
Add the optional soy milk & tofu cream mixture (or vegan heavy cream) to vegan garlic butter.
Add chopped parsley to the sauce and cook for another 3 mins, until heated through and fragrant.
Once the potatoes are cooked, drain the potatoes in a strainer or sieve.
Add the potatoes to the pot and mash with a potato masher. If you have a potato ricer, it's even more quicker to put them through it and back into the pot all mashed.
Pour over the milky-garlic mixture and combine until smooth.
Season to taste with salt and pepper, and serve.
Serving size:
1 serving
Calories:
231
Fat:
8.9g
Carbohydrates:
31.8g
Sugar:
2g
Protein:
5.5g
Recipe by
The Edgy Veg
at https://www.theedgyveg.com/2020/11/24/vegan-mashed-potatoes/