Vegan Monte Cristo Pancakes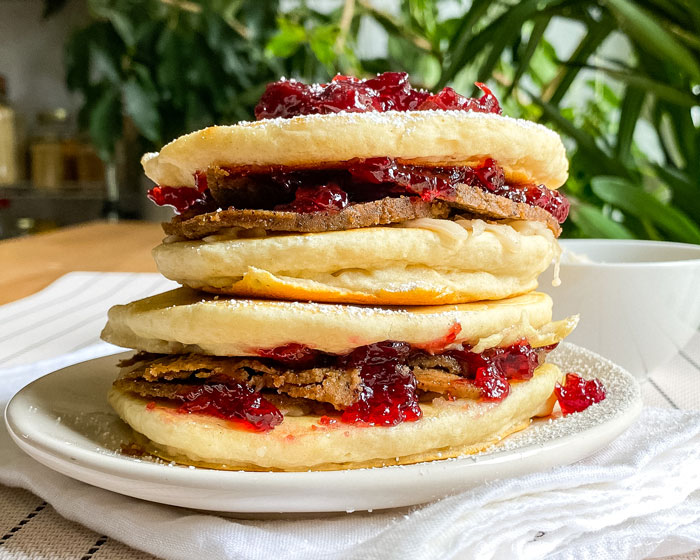 Prepare pancake batter.
Heat 1-2 tbsp vegan butter in a large pan over medium-high heat (or griddle if you have one).
Make 8 pancakes by adding ¼ cup of the batter per pancake onto the pan, I can make 4 at once. Cook them for about 1½ minutes on each side, or until the bubbles stop opening and closing, and the bottom is golden brown. Flip.
As the second side is cooking, add roughly 2 tbsp of the shredded cheese, and a few slices of vegan meat of choice to the cooked side of 2 pancakes, and spread 1-2 tsp jam on the other 2 pancakes.
place the jam spread pancake on top of the cheese & meat-topped pancake and place onto a plate.
Repeat with all pancake batter.
Serve warm, dusted with powdered sugar and garnished with some jam.
Serving size:
1 sandwich
Calories:
202
Fat:
7.15g
Carbohydrates:
24.4g
Sugar:
6.5g
Sodium:
357.75mg
Fiber:
1g
Protein:
11g
Recipe by
The Edgy Veg
at https://www.theedgyveg.com/2020/04/29/vegan-monte-cristo-pancakes-recipe/