Vegan Creamy Tomato Pasta Sauce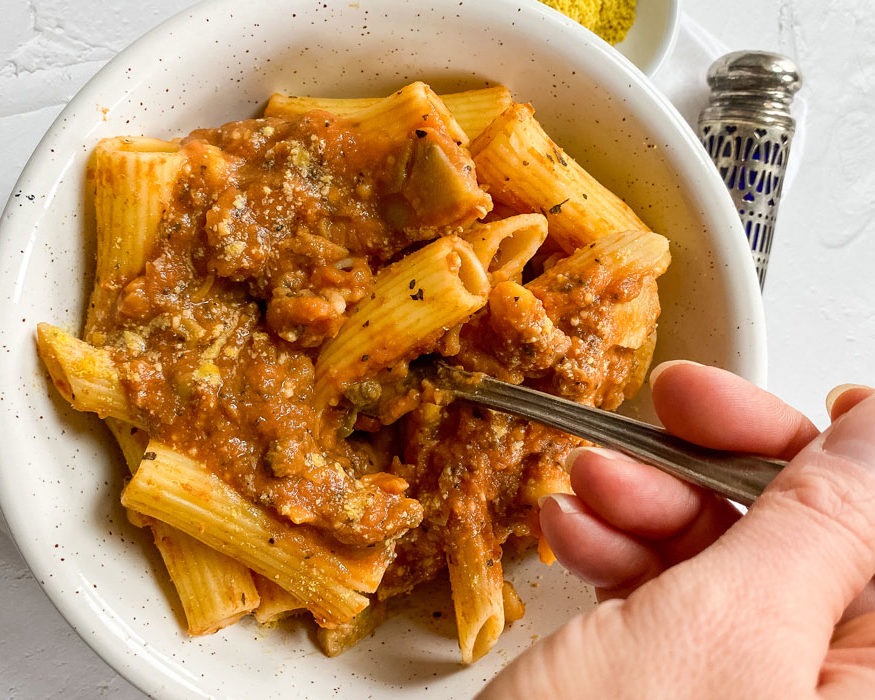 In a blender add canned tomatoes, tomato paste, 1 cup chickpeas, nutritional yeast, garlic powder, and onion powder, and blend until smooth. If you are using diced tomatoes you can blend everything but the tomatoes.
Transfer creamy tomato sauce to a medium saucepan, and heat over medium-high heat.
Add oregano, basil, sweetener, salt, and pepper to taste. If you want a spicier sauce, you can add red pepper flakes now.
Meanwhile, cook the pasta in a large stockpot of generously-salted water according to package instructions. Reserve 1 cup of cooking liquid and drain.
Continue cooking the sauce until it reaches a simmer.
Reduce heat to medium-low, and simmer for up to 30 minutes until it has partially reduced.
Stir in the artichoke hearts, capers and ½ cup whole chickpeas.
Taste, and season with salt & pepper, if needed.
When your sauce is ready, combine the drained pasta with a few scoops of the sauce and gently toss, add pasta water as needed to help coat the noodles, and create a velvety sauce.
Serve immediately, garnished with your desired toppings.
Calories:
371.5
Fat:
4.9g
Saturated fat:
0.5g
Trans fat:
0g
Carbohydrates:
70g
Sugar:
13.3g
Sodium:
1096mg
Fiber:
14g
Protein:
16.1g
Cholesterol:
0mg
Recipe by
The Edgy Veg
at https://www.theedgyveg.com/2020/03/24/vegan-creamy-tomato-pasta-sauce/