Authentic Israel Hummus | Abu Hassan Hummus Recipe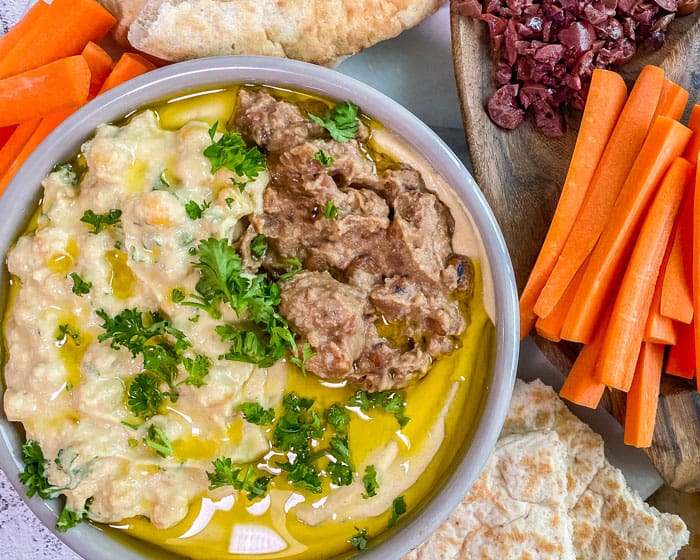 Soak chickpeas overnight by placing dried chickpeas, 1 tbsp sea salt, 1 tsp baking soda, and 4 cups of water in a large container.
Stir to help salt and baking soda dissolve and allow the chickpeas to soak in the fridge overnight.
Rinse soaked chickpeas with cold water and be sure to remove any stones, stick or other harvesting debris. Place them into a pressure cooker.
Add 1 tsp salt, 1 tsp baking soda, 1 bay leaf, 1 garlic clove, and ½ onion to the pressure cooker and cover completely with water, covering 2 inches above the chickpeas.
Set the pressure cooker to high and 10 minutes. After it beeps allow it to release naturally for 15 minutes.
Meanwhile, puree 4 garlic cloves, lemon juice and salt in a food processor. Scrape down the sides, to ensure all the garlic is sitting in the lemon juice and allow it to soak while the chickpeas are cooking.
When chickpeas are done cooking, remove the onion and bay leaves.
Drain the chickpeas but reserve the liquid. Set aside the chickpeas and chickpea liquid.
To the food processor, add the tahini and start to blend. Add the reserved chickpea water, one tablespoon at time until the tahini is smooth.
Add the chickpeas and 1 cooked clove garlic, cumin and to the food processor.
Blend adding 1 tbsp of chickpea liquid at a time until desired smoothness is reached. This could take 5-8 mins of blending. The hummus should be very smooth, and light. Taste, and adjust salt accordingly.
Scoop the hummus into a serving bowl and top with a drizzle of olive oil, chopped fresh parsley, ful (optional), Meshabha (optional) and served with sliced onion and pita.
Serving size:
¼ cup
Calories:
149
Fat:
8.3g
Saturated fat:
1g
Carbohydrates:
15g
Sugar:
1.7g
Sodium:
812mg
Fiber:
5g
Protein:
6.1g
Cholesterol:
0mg
Recipe by
The Edgy Veg
at https://www.theedgyveg.com/2020/02/11/israel-hummus-abu-hassan-recipe/