Vegan KFC Popcorn Chicken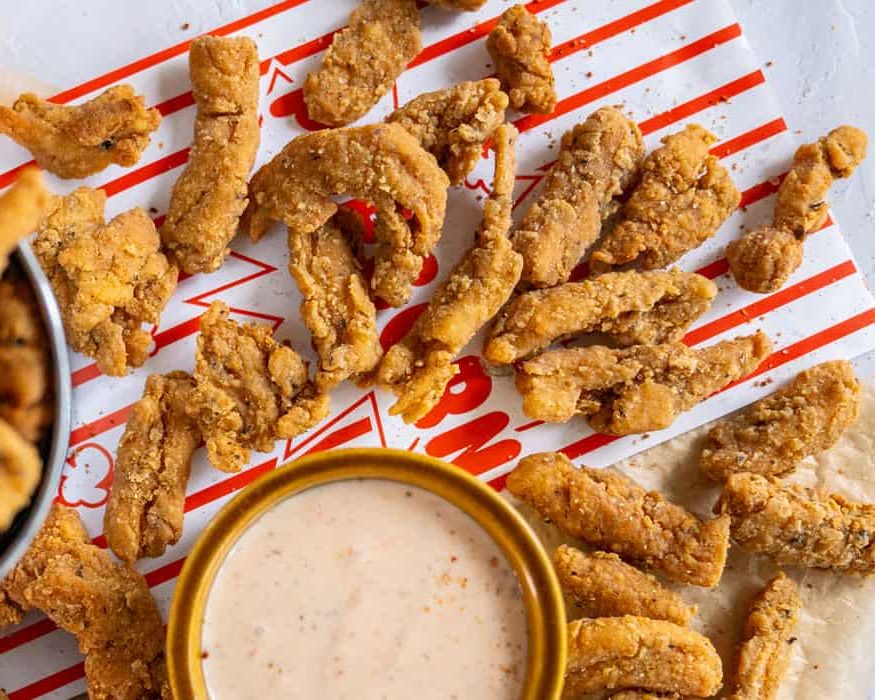 In a large bowl combine hot water and better than bouillon no-chicken until dissolved. Add dried soy curls and toss to coat in broth. Set aside to soak for a minimum of 30 mins. I like to do this overnight to really get the flavour in there.
When the soy curls are marinated; drain in a colander over a bowl to catch the liquid to use in soups or gravy. Using your hands, squeeze out as much liquid as you can. Cut up the soy curls into popcorn-sized bites and place them into a large bowl.
To the large bowl add soy sauce, pepper, and aquafaba, and toss to coat. Add 1 tbsp cornstarch and toss to coat again. Set aside.
Meanwhile, in another bowl add; flour, ¼ cup cornstarch, baking soda, baking powder, thyme, basil, oregano, celery salt, black pepper, mustard powder, paprika, garlic powder, ginger, white pepper and MSG.
Give the soy curls a quick toss, and then toss into the flour mixture. Press into flour to coat well, dust off any excess flour, and place on a wire cooling rack.
Meanwhile, heat the oil to 350F. Cook a few pieces of popcorn soy curls in hot oil until golden brown, about 2-3 mins, turning a few times. Do not overcrowd the oil or else they will not cook properly.
Remove the soy curls from the fryer and place on a wire cooling rack to allow excess oil to drip off.
Serve with your favourite dips!
Calories:
226
Fat:
3.5g
Trans fat:
0g
Carbohydrates:
37.75g
Sugar:
2.5g
Sodium:
1861mg
Fiber:
4.75g
Protein:
11.2g
Cholesterol:
0mg
Recipe by
The Edgy Veg
at https://www.theedgyveg.com/2020/01/14/kfc-popcorn-chicken-vegan/