Vegan Italian Wedding Soup | Crock-Pot Recipe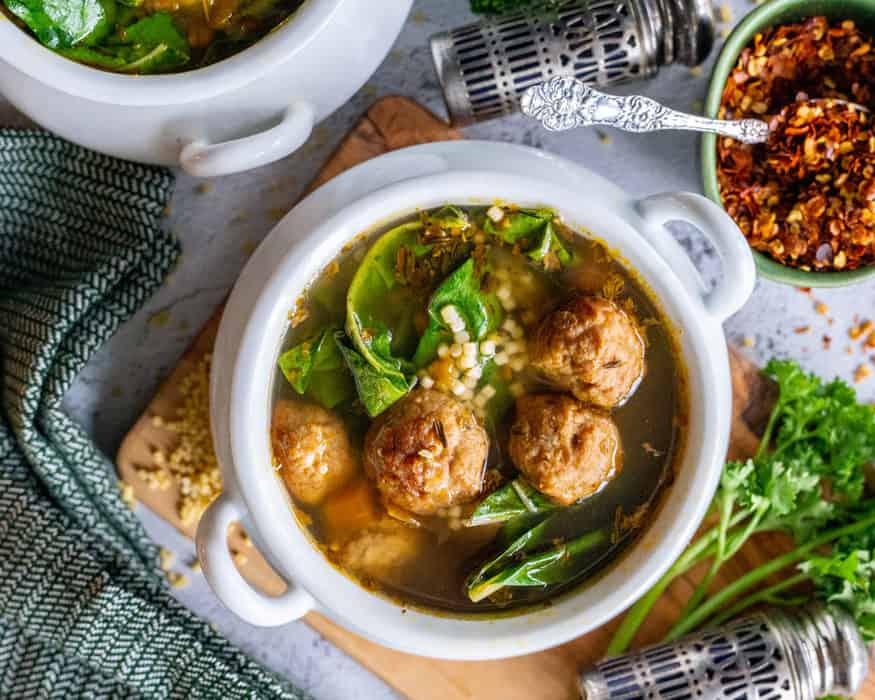 8 cups water
4 no-chicken bouillon cubes (vegetable bouillon will also do)
1 small cooking onion, diced
3 cloves garlic, minced
2 large carrots, diced
2 celery stalks, diced
1 ½ tbsp Italian Seasoning
2 bay leaves
salt and pepper to taste
3 cups, spinach, cut into strips
1 cup acini di pepe pastina or other small pasta, uncooked (gluten-free optional)
4 vegan sausages, sliced or rolled into 1 inch balls (I used Beyond Meat Italian Sausages)
Vegan parmesan cheese or nutritional yeast, to garnish
Fresh parsley, to garnish
In the Crock-Pot Programmable Slow Cooker, add water, bouillon cubes, onion, garlic, carrots, celery, and Italian seasoning, and bay leaves, and program to high for 4 hours.
Meanwhile, preheat oven to 375F, and line a baking sheet with parchment paper or a silicone mat.
Bake vegan sausage "meatballs" for 10 mins on the lined baking sheet, until cooked through.
Place the meatballs into the slow cooker.
Add the pasta and spinach to slow cooker, and cook, covered, 20 minutes prior to serving.
After 20 mins, serve soup in bowls, garnished with freshly chopped parsley and vegan parmesan or nutritional yeast.
Serving size:
Approx. 2 cups
Calories:
310
Fat:
9.7g
Trans fat:
0
Carbohydrates:
32g
Fiber:
7g
Protein:
19.6g
Recipe by
The Edgy Veg
at https://www.theedgyveg.com/2019/12/11/vegan-italian-wedding-soup-crock-pot/