KFC Vegan Chicken Recipe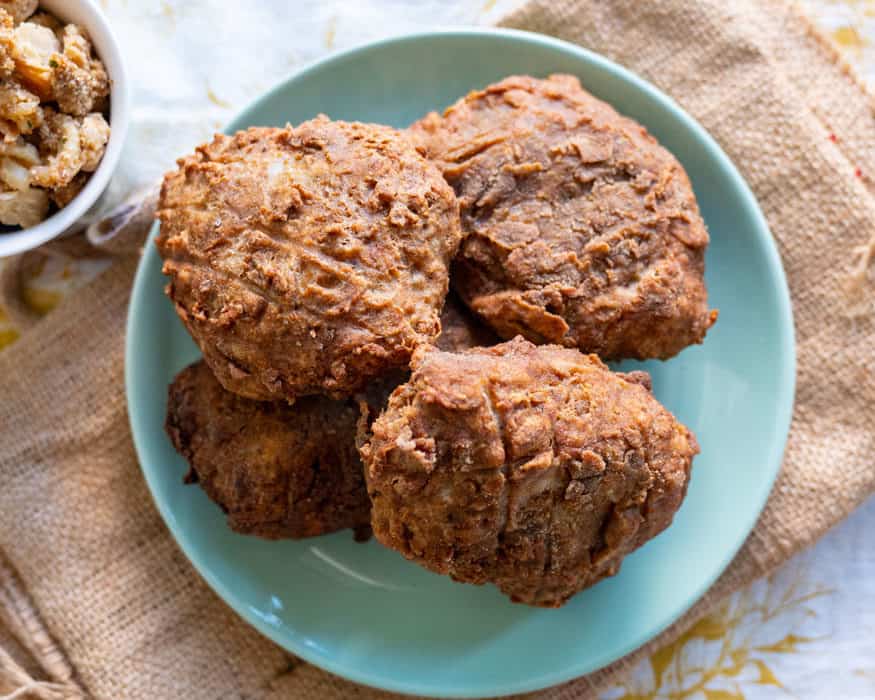 Prepare vegan chicken according to my recipe instructions up until the cooking method.
Add all spices to a small food processor or spice grinder, and blend until smooth. Transfer to a large bowl. NOTE: If using MSG, leave out the sea salt.
Add flour to the bowl and whisk to combine.
Next, whisk together the soy milk and apple cider vinegar. Let sit for a couple of mins.
Pour your aquafaba into a sperate bowl and whisk it until it's foamed.
Now slowly add your soy milk and apple cider vinegar buttermilk into the foamed aquafaba while whisking it at the same time. Set aside.
To cook your vegan chicken, you can use a deep fryer or a deep pan with a lid.
If using a deep fryer: heat frying oil to 325F.
If using a deep pan: pour enough oil to measure 3 inches inside the pan. Cover with a lid and heat oil over medium-high heat to 325F.
Dredge the vegan chicken in the flour mixture and shake off any excess. Then dip them in your aquafaba buttermilk mixture. Repeat. And lay to rest on a wire rack for 10 mins.
Cook 3 to 4 pieces in the hot oil at once.
In a deep fryer: this should cook up golden brown and crispy in about 3-4 minutes.
If you are using a deep pan with a lid: turn the pieces occasionally. This should take about 3 to 6 minutes.
Keep an eye on the pieces and remove when golden brown and crispy.
Place finished vegan chicken on a wire lined rack.
Continue to fry your vegan chicken in batches of 3 or 4, allowing the oil to return to 325F between batches.