Vegan Pumpkin Cupcakes with Pumpkin Spice Frosting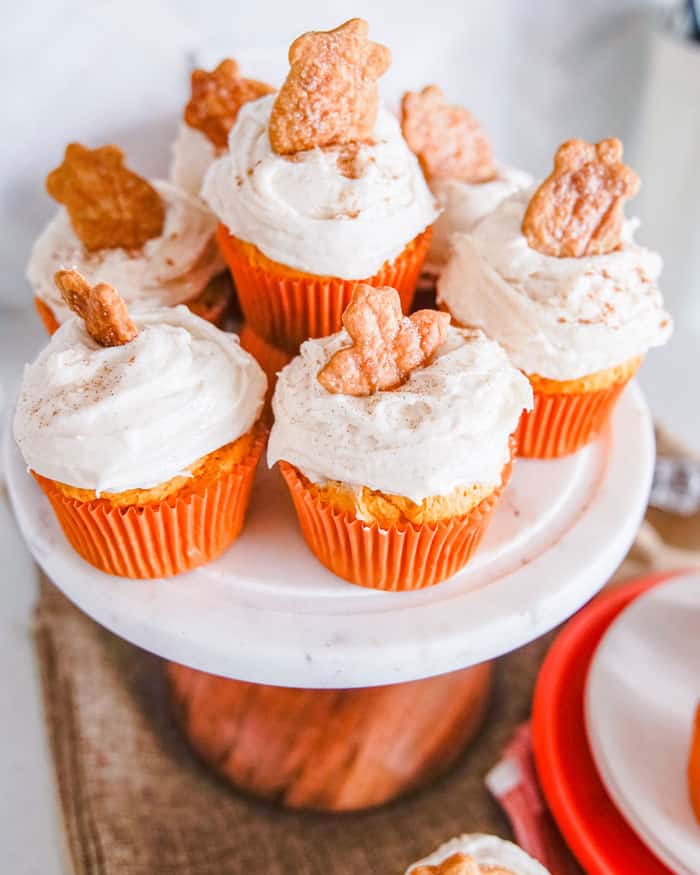 Position the rack in the center of the oven and preheat your oven to 350F.
Grease and line a muffin tin. Set aside.
Using a bowl with a hand mixer, or a stand mixer; mix together the boxed cake mix, pumpkin pie spice, and the pumpkin puree.
Divide the batter evenly between each cupcake liner and bake for 15-18 minutes or until an inserted toothpick comes out clean.
Remove the cupcakes and place them on a wire rack to cool.
While the cupcakes are cooling, line a baking sheet with parchment paper or a baking mat.
Using festive cookie cutters, cut out enough shapes from the pie crust to top your cupcakes.
Arrange the cutouts on the prepared baking sheet, and brush each one with non-dairy milk, and sprinkle with granulated sugar.
Bake for 10-15 mins or until golden brown.
Remove from baking sheet and allow to cool on a wire rack completely.
In a stand mixer or a large bowl with a hand mixer, beat softened cream cheese and butter together, until smooth and creamy.
Slowly add in icing sugar, pumpkin pie spice and vanilla.
Add more powdered sugar as needed until frosting is creamy and thick.
Spread or pipe frosting onto cupcakes and garnish with festive pie cut-outs.
Recipe by
The Edgy Veg
at https://www.theedgyveg.com/2019/10/03/vegan-pumpkin-cupcakes-pumpkin-spice-frosting/