Vegan Nacho Cheese Recipe | Dairy-Free, Nut-Free & Gluten-Free Nacho Cheese Sauce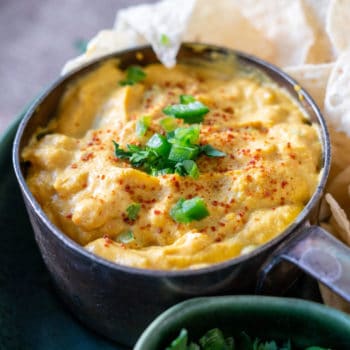 Add silken tofu, carrot, lemon juice, apple cider vinegar, garlic powder, onion powder, mustard powder, nutritional yeast, and sea salt to a blender and blend until smooth.
Melt vegan butter or oil in a medium-size pot over medium heat.
Add shallots, garlic and jalapeño and saute for 3-4 minutes until fragrant and softened.
Add cheese sauce mixture to the saucepan and stir to combine, until heated, roughly 2-4 minutes.
Serve with tortilla chips as a dip, or use on top of vegan nachos, as a spread or as a cheese substitute in a mac & cheese.
Recipe by
The Edgy Veg
at https://www.theedgyveg.com/2019/09/18/vegan-nacho-cheese-recipe/