BEST Vegan Brownies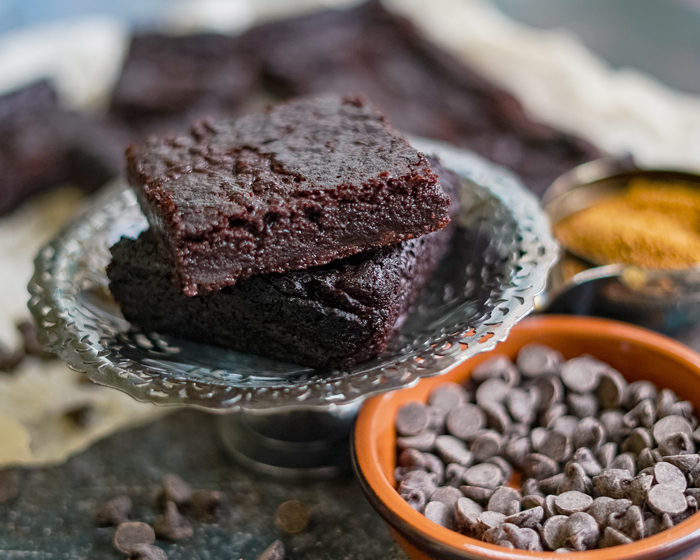 Grease a 9x9-inch dark metal pan with softened vegan butter.
Line with parchment paper, leaving overhang on all sides.
In a heatproof liquid measuring cup or medium bowl add the chocolate chips, ¼ cup cocoa powder, and espresso powder and set aside.
In another heat proof bowl, add vegan butter and cook in the microwave until bubbling about 2.5 mins.
Pour the hot vegan butter over the chocolate mixture and let sit for 2 minutes until the chocolate starts to melt. Whisk the mixture until it is completely smooth. Set aside.
In a large bowl with a hand mixer or in the bowl of your stand mixer, combine the white sugar, brown sugar, vanilla extract, salt, and aquafaba and beat on high speed until light and fluffy, about 10 minutes. It will begin to look like a thick pancake batter.
Position a rack in the middle of the oven and preheat to 350°F.
Slowly drizzle in the chocolate mixture while beating the aquafaba mixture, until smooth.
Gently fold in the remaining cocoa powder, baking soda, and flour until just combined.
Pour the batter into the prepared baking pan and smooth the top with a spatula.
Bake for 20 mins, or until the brownie has lightly puffed on top.
Remove the baking pan from the oven using oven mitts, and gently drop the brownies on a flat surface 1-2 times until the brownies deflate slightly. Sprinkle with flaky sea salt.
Return the pan to the oven and bake until a wooden skewer inserted into the center of the brownies comes out fudgy but the edges are cooked, roughly another about 20 minutes.