Dill Pickle Pizza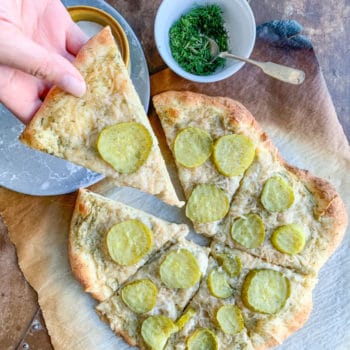 2 Tbsp olive oil
4 cloves garlic, minced
1-2 Tbsp unbleached all-purpose flour (depending on if you like a thin or thick sauce)
1 tbsp dried dill, or a handful of fresh dill finely chopped
¼ tsp Italian seasoning
¼ tsp salt + extra to taste
¼ tsp pepper
1½ cups soy milk
1 Tbsp nutritional yeast
Pizzaz Dough of Choice (I used "Pizzeria-Style Dough" from my cookbook)
Vegan Mozzarella Style Cheese of Choice (I used "Its a Bella Mozzarella" from my cookbook)
Dill Pickles
Dried or Fresh Dill
Vegan Parmesan Style Cheese of Choice (optional)
Heat olive oil and garlic in a small saucepan over medium-low heat. Cook for 1-2 minutes, whisking constantly. Be sure not to brown the garlic.
Add dill, Italian seasoning, salt, and pepper and continue to whisk.
While whisking, slowly add in flour, 1 tbsp at a time, until the mixture becomes a paste.
Allow to cook, whisking constantly for 1-2 minutes.
Slowly drizzle in soy milk, ½ cup at a time, whisking constantly.
Add nutritional yeast and allow to simmer for 5-10 minutes on low. The sauce will begin to thicken.
Preheat the oven to 500°F with your pizza stone on the middle rack.
On a floured surface, roll out your dough and shape in a circle as wide as your pizza stone.
Place dough on a piece of parchment paper on a baking sheet or cutting board.
Brush the tops LIGHTLY with olive oil. Allow to rise for 10 mins.
Top with ½ of the garlic sauce (or less, depending on how saucy you like your pizza), leaving space for a crust.
Sprinkle vegan mozzarella evenly over the entire pizza.
Top with pickles, and sprinkle a generous amount of dill.
Bake the pizza on the bottom rack for 5 minutes.
Transfer to the top rack and continue baking for another 5-10 minutes. 15 mins total cooking time. You want the cheese to be melted and the bottom to be golden brown.
Remove the pizza from the oven and allow to rest for 5 minutes.
Slicing and serve with a side of ranch dip or hot sauce.