High Protein Vegan Ground Beef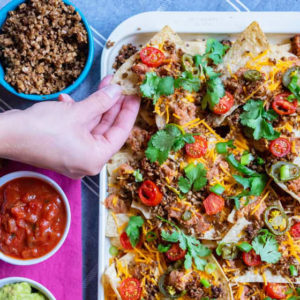 In a food processor, add walnuts and sunflower seeds and pulse a few times to break the nuts into smaller pieces.
Add olive oil, ground cumin, coriander, tamari or soy sauce, salt, pepper, paprika, garlic powder, onion powder, cayenne pepper, and chili powder; and pulse until mixed. You want the consistency to be that of ground beef.
Add more seasoning or olive oil to taste, if necessary.
Serving size:
½ cup
Calories:
461.5
Fat:
44.5g
Carbohydrates:
6g
Sugar:
1.6g
Fiber:
4.7g
Protein:
11.75g