The BEST Vegan Omelette EVER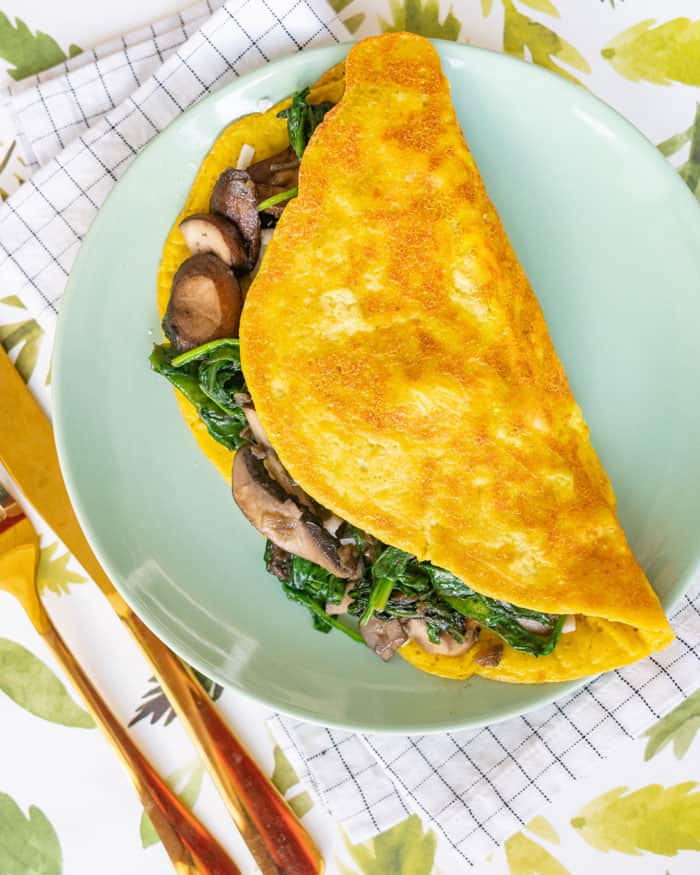 Heat 1 tsp olive oil over medium-high heat, add onion and cook until translucent and fragrant, 3-5 mins.
Add the onion to a blender along with tofu, nutritional yeast, oil, garlic powder, and turmeric. As you're blending, add about a tablespoon at a time of soy milk to help the mixture blend. Puree until you have a smooth paste. Scrape down the sides as needed.
Add the cornstarch and bouillon, and slowly add the rice flour and puree again for about 30 seconds, add black salt and pepper, and more soy milk if needed, blend again until combined and thick, scraping down the sides. The batter should resemble a pancake batter. Set aside.
Heat 1 tbsp vegan butter or oil in a nonstick skillet, sauté 2 cloves of garlic, shallot and mushrooms until the mushrooms are browned add spinach and cook until wilted. Remove from the pan and set aside.
In a large non-stick skillet over medium heat. Add 1 tsp of vegan butter and coat the pan.
Add half of the tofu batter, and spread it gently with a spatula to cover the bottom of the skillet completely.
Cover, and cook the omelet for 5 - 8 minutes, or until top seems dry.
Gently loosen the omelet from the bottom of the pan with a spatula and carefully flip and cook it for another 2 minutes.
Loosen the omelet again, and some of the toppings to one side of the omelet.
Gently with your spatula, fold over the other side of the omelet and transfer onto a serving plate. Repeat with remaining batter and fillings.
Recipe by
The Edgy Veg
at https://www.theedgyveg.com/2019/07/22/how-to-make-a-vegan-omelet/