Pizza D'oh! Pizza Dough Vegan Recipe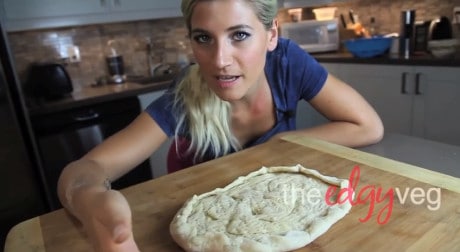 2¼ tsp active dry yeast
1⅓ cups warm water
3½ - 3¾ cups organic white flour*
1 tbs olive oil
1 tbs Himalayan rock salt
1 tsp cayenne
1 tbs agave or organic white sugar (Optional, it makes the crust puffier)
Combine the yeast and the warm water in a large bowl. Let stand for 5 - 10 minutes until yeast is dissolved and is starting to foam up.
Mix in the rest of the ingredients. Turn the dough onto lightly floured surface and knead for 10 minutes. The dough should be smooth and not sticky. Coast a bowl with olive oil, and ad the dough. Turn the dough over to coat completely with oil. Cover with a clean and floured dishtowel and let rise in a warm place. I like to place it on top of my oven. it will double in size.
Punch the dough down and divide it in half. I like to freeze one half for next time, or if I'm feeding a large group I make two different pizzas.
Roll your dough into a ball and let it rest, loosely covered, for about 10-15 minutes. Preheat the oven to 450F. Dust your baking sheet. The dough will be fairly elastic, so you'll have to stretch it out with your rolling pin. Place the dough on your baking sheet. To prevent the toppings from making the crust soggy, brush the top of the dough with a bit of additional olive oil. pierce the surface area of the dough with a fork, this will prevent air holes bubbling up as it bakes.
Now add the toppings - whatever you like. Sometimes I do the tomato sauce thing as a base, sometimes I'll use pesto, avocado or just plain olive oil. Try this no cheese version of a traditional favourite.
When you're ready, pop it in the oven. Depending on your crust, the dough will take about 12 minutes.
Recipe by
The Edgy Veg
at https://www.theedgyveg.com/2012/03/27/pizza-doh/