Vegan Diner-Style Home Fries | Vegan Recipe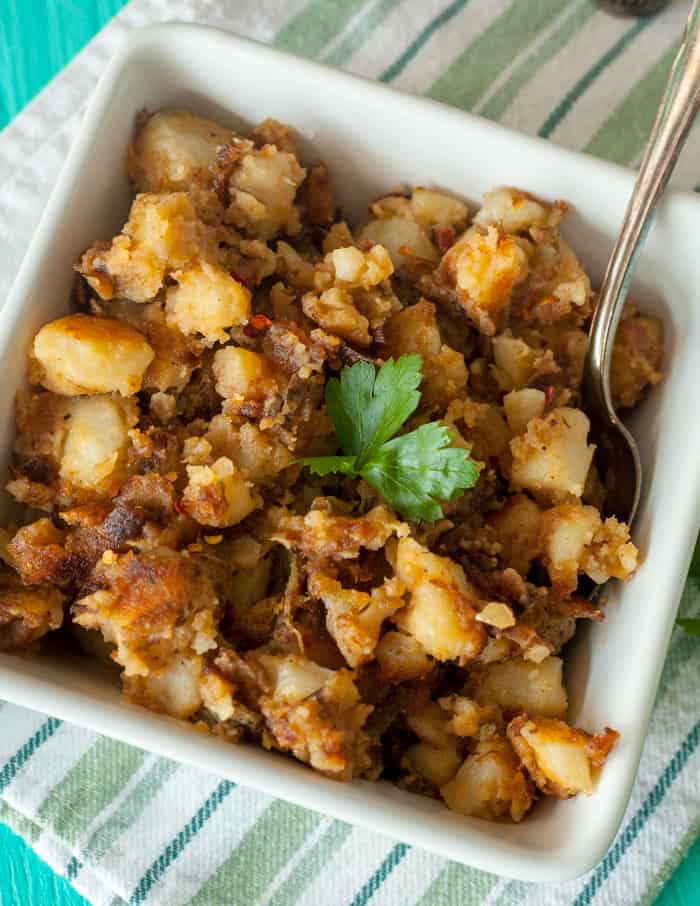 Add the diced potatoes to a pot and cover with water.
Bring the water to a boil and cook for 3 mins. Turn off the heat and let the potatoes sit in the hot water.
While you wait, prepare your other ingredients.
Heat 1 tbsp olive oil in a large non-stick pan, over medium heat.
Add the chopped onion and cook, stirring, until translucent, about 3-5 minutes. Remove onions from the pan and set aside.
When the potatoes are fork tender, drain and let them sit in the colander until they are completely dry, about 5-10 minutes.
Heat 1 tbsp oil and 1 tbsp butter-flavoured coconut oil over medium heat, in the same pan you used for the onions.
Add the potatoes, garlic powder, cajun seasoning and salt and pepper to taste, and combine. Make sure all the potatoes are coated in the oil/butter mixture. This will ensure that their edges crisp up.
Spread out the potatoes so that they are laying in a single layer. Cook, without stirring, for 8-10 minutes, until the bottoms become golden brown and crispy.
Flip the potatoes, and repeat until they're golden and crispy.
Add onions and stir to combine. You should have lost of crispy bits, along with some soft potato morsels.
Taste and season with additional salt, pepper or cajun seasoning to taste.
Recipe by
The Edgy Veg
at https://www.theedgyveg.com/2018/04/20/diner-style-home-fries/