Creamy Vegan Mushroom Pasta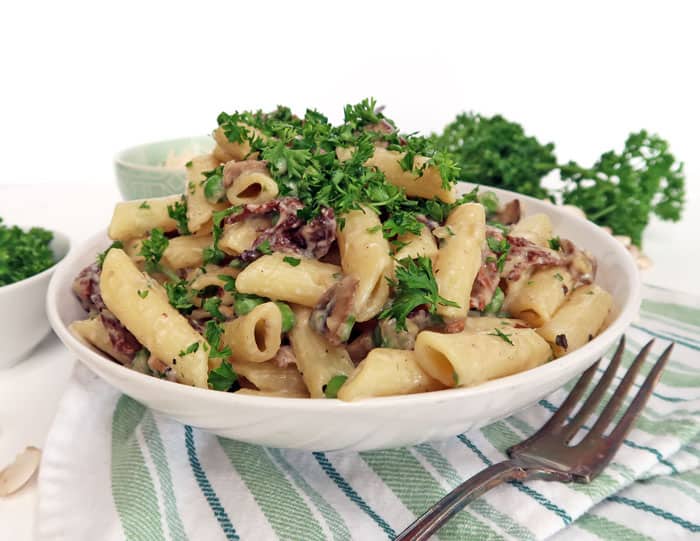 1 lb pasta of choice
¼ cup olive oil or vegan butter
4 cloves garlic, minced
⅔ cup shallots, finely chopped
8 cups mixed mushrooms, sliced (I like cremini, shiitake, and chanterelles)
3 tbsp unbleached all purpose flour
1 tbsp nutritional yeast, or ½ cup vegan parm, optional
⅓ cup fresh parsley, chopped, plus extra for garnish
2 cups frozen peas, thawed
In a large pot bring salted water to a boil. Cook pasta according to package directions and drain.
While the pasta is cooking, prepare the sauce.
Heat olive oil or butter in a large skillet oven over medium heat. Add garlic, shallots, mushrooms and ½ tsp salt and cook stirring occasionally, until mushrooms are browned and tender, about 10-15 mins.Turning down to medium low after 5 mins.
Sprinkle flour over the mushrooms and stir to coat, allowing to cook for 30 sec-1 min. Bring heat back up to medium-high.
Add 1 cup almond beverage, stirring constantly and it let simmer for 1 min. Make sure to break up any clumps.
When completely smooth and thickened slightly, add remaining almond milk and pepper to taste, return to a simmer, stirring constantly.
Cook until the sauce thickens slightly again, about 3 mins.
Remove saucepan from heat and stir in nutritional yeast or vegan parm, if using until melted and or well incorporated. Add peas, and salt & pepper to taste and cook for 1 additional minute or until peas are heated through.
Add the pasta to the mushroom sauce and toss to coat.
Serve garnished with extra parsley and serve immediately.
Recipe by
The Edgy Veg
at https://www.theedgyveg.com/2018/03/29/creamy-mushroom-pasta-vegan-pasta-recipe/