Vegan Pot Pie | Mini Vegan Chicken Pot Pie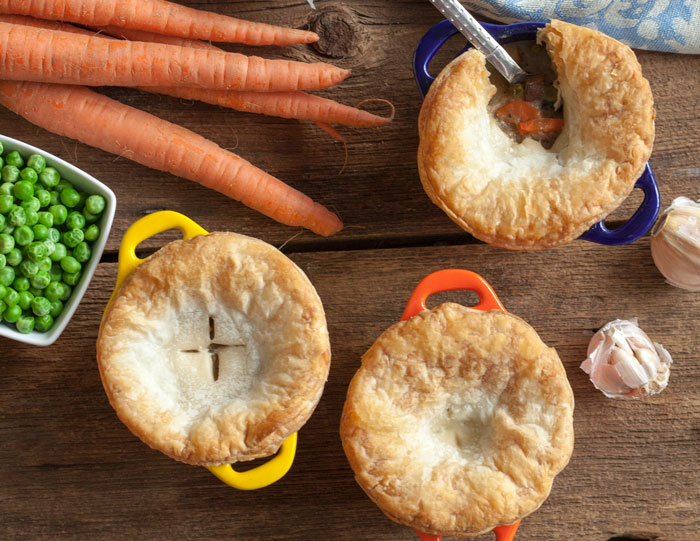 Preheat oven to 375F.
Heat coconut oil in a large saucepan over medium heat.
Add garlic, onion and a pinch of salt and cook, stirring constantly for 3 mins.
Add carrots, celery, and potato and saute until tender, about 5-7 mins
Add flour and mix well.
Slowly whisk in the broth, then add soy milk and bay leaves and mix well.
Bring the stew to a simmer and cook until thick, about 5 mins.
Add peas and veggie chicken, and cook until heated through, roughly 5 mins.
Taste and adjust salt and pepper to taste.
Divide the stew evenly between 4 lightly greased, oven-safe, soup bowls or ramekins.
Roll out the dough and cut into 4 equal pieces. Place the dough over your bowl or ramekin and trim off the excess.
Press the edges slightly.
Brush the tops of the dough with melted vegan butter or aquafaba, and cut 1-3 slits in the top for venting.
Place the bowls onto a baking sheet and bake until the pastry dough is golden brown, roughly 50 mins, check often to avoid burning.
Allow to cool for a few minutes, then serve immediately.
Recipe by
The Edgy Veg
at https://www.theedgyveg.com/2018/01/29/vegan-pot-pie-recipe-vegan-chicken-pot-pie/