Instant Pot Dal Recipe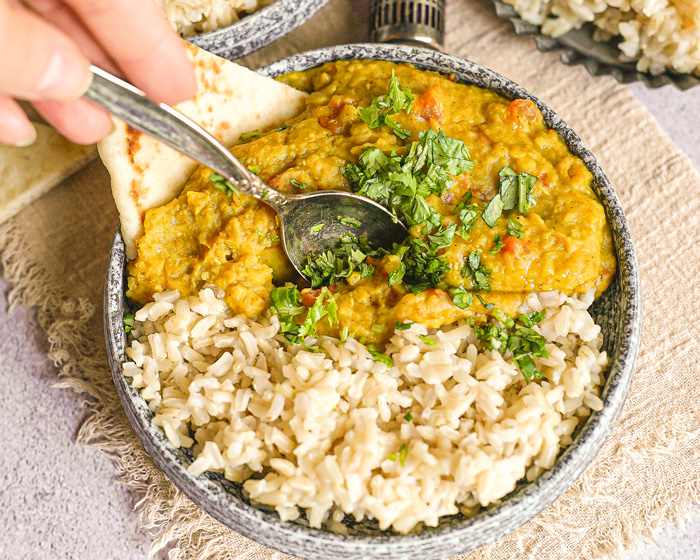 2 Tbsp coconut oil
1 large yellow onion, chopped
4 cloves garlic, minced
1 tbsp minced ginger
1 tsp ground cumin
1 tsp ground turmeric
1 tbsp curry powder
1 tsp garam masala
¼ tsp cayenne add more if you like your indian food spicy!
¼ tsp mustard seeds
1½ cups of dried brown or red lentils
3 cups water
½ tsp salt
2 tomatoes, chopped
¼ cup fresh cilantro, chopped + extra for garnish
On your instant pot, press the 'Sauté' button, add heat the oil.
Add onion and cook until translucent.
Stir in garlic, ginger, cumin, turmeric, curry powder, garam masala, cayenne, and mustard seeds and cook for another minute until fragrant.
Hit the 'Cancel' button and add lentils, water, salt, chopped tomatoes and mix to combine.
Cover the Instant Pot with the lid, and close the pressure valve. Press the 'Pressure Cookl' button and set the cooking time to 10 minutes.
After the timer sounds, wait 10 mins before opening the pressure valve.
After 10 minutes, open the valve and stand back!!!!
Mix the lentil mixture and add the chopped cilantro.
Stir to combine, and serve over basmati rice or with naan (regular or garlic), and top it with fresh cilantro.
Serving size:
1 serving
Calories:
192
Fat:
7.75g
Carbohydrates:
17.3g
Sugar:
3.65g
Sodium:
301mg
Fiber:
6.75g
Protein:
8.4g
Cholesterol:
0mg