Orange Chicken with Soy Curls | Vegan recipe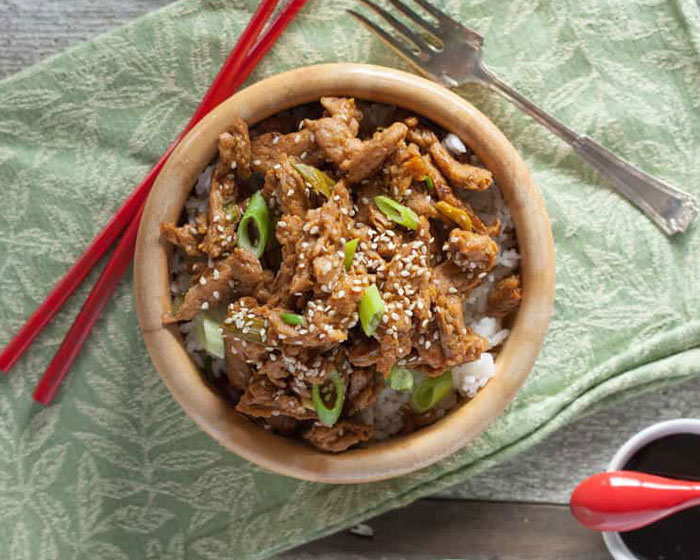 Rinse rice well in a fine mesh sieve until the water runs almost clear.
Place rice and 1 ¾ cups water in a medium saucepan and bring to the boil.
Once boiling, turn the heat down as low as possible and cover with a lid.
Cook on low for 15 mins, without removing the lid.
Meanwhile, pour soy curls into a large bowl and cover with vegetable broth or vegan chicken-style broth and set aside to soak for 10 mins.
After 15 mins, remove rice from heat and use a fork to fluff up the rice and let it sit for 5 mins to dry out. Cover until ready to use.
Meanwhile, prepare the sauce by whisking together orange juice, orange zest, coconut sugar, 2 tbsp soy sauce, hoisin sauce, rice vinegar, grated ginger, and if you like it spicy- sriracha.
Transfer ½ of the sauce to a large bowl or plastic zipper bag.
Drain the soy curls well and press them firmly with paper towels to remove as much moisture as possible.
Add the rehydrated soy curls to the bowl with the sauce and toss to coat. If you are not pressed for time, allow to marinate from 1 hour to overnight. if you are pressed for time, allow to marinate until needed
Heat 2 tbsp oil in a large skillet or wok over medium high heat.
Add the saucy soy curls to the skillet and cook until heated through and slightly crispy.
Remove soy curls from the skillet and reduce heat to medium-low.
Add reserved sauce to the skillet along with cornstarch slurry, and cook stirring frequently until the mixture thickens about 1-2 minutes. Remove from heat.
Add cooked soy curls, green onions and toss to coat.
Divide rice between 4 bowl or plate (about 1 cup per dish) and top with cooked soy curls.
Garnish with sesame seeds and extra sliced green onions.
Recipe by
The Edgy Veg
at https://www.theedgyveg.com/2017/09/06/orange-chicken-soy-curls-vegan-recipe/