Vegan Egg Salad Sandwich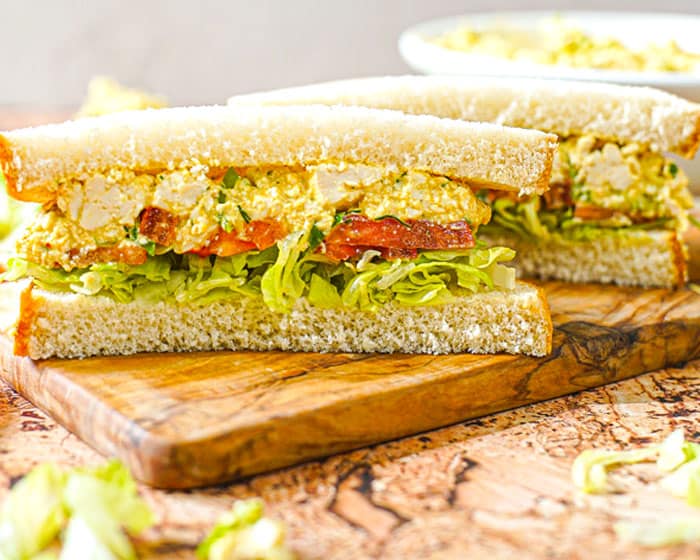 14oz package medium firm tofu
1 stalk celery, small dice
¼ red onion, finely chopped
1 Tbsp fresh parsley, finely chopped
1 Tbsp fresh dill or chives, finely chopped
8 slices of your favourite sandwich bread (toasting optional)
¾ cup alfalfa sprouts or shredded lettuce
1 tomato, sliced
¼ cucumber, sliced
Wrap tofu in a tea towel or paper towels (or use tofu press) and squeeze gently to remove water. Place in a colander over a bowl or in the sink and set aside.
In a large mixing bowl combine vegan mayo, mustard, relish, nutritional yeast, apple cider vinegar, garlic powder, turmeric, paprika, black salt and a pinch of cayenne pepper. Mix until combined and smooth.
Use your hands and crumble the tofu into small pieces into the large mixing bowl with mayo mixture.
Combine well and taste. Add more mayo, black salt and cracked pepper as needed.
Add celery, onions, parsley and dill or chives and mix to combine.
Use right away or chill for a minimum of 30 mins to allow spices and seasonings to marinate the tofu.
Taste mixture after 30 mins and adjust seasonings as needed.
Spoon tofu mixture onto four slices of bread and top with alfalfa sprouts or greens, and tomatoes (or whatever veggies you want) and top with a second slice of toasted bread on each. Slice in half and serve, or wrap in eco-friendly sandwich wrap for a delicious school or work lunch.