2 ingredient Vegan Chocolate Fondue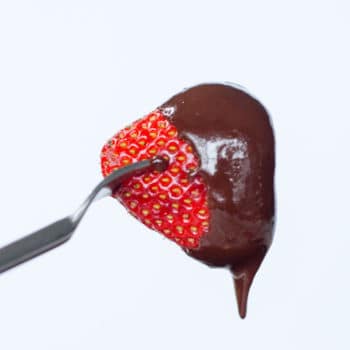 Serves:
makes roughly 4 cups of chocolate
Place chocolate chips into a glass bowl and microwave for 30 seconds. Do not make the mistake of thinking 30 seconds won't be enough, we are not looking for a total meltdown just yet.
Remove the chocolate chips from the microwave and set them aside.
Open up the can of coconut milk and drain out the extra liquid. Scoop out the creamy white coconut cream and add it directly to your bowl of chocolate chips.
Heat mixture in the microwave in 30 second intervals, stirring between each one, until you feel confident your chocolate is fully melted.
Whisk mixture until completely smooth.
Transfer the chocolate into a fondue potand carefully light the burner underneath to ensure it stays warm. Alternatively, if you do not have a fondue pot don't fret, many pots make perfect fondue pots and there are tons of videos on YouTube to help you turn your ordinary pot into a great fondue pot. Or, simply place it into a fancy serving bowl and reheat in the microwave as needed.
Serve with strawberries, pineapples, vegan cheesecake bites, marshmallows, cookies, and really anything else you think might be delicious.
Recipe by
The Edgy Veg
at https://www.theedgyveg.com/2018/02/14/easy-2-ingredient-chocolate-fondue/