Giant Twix Bar/ Millionaire shortbread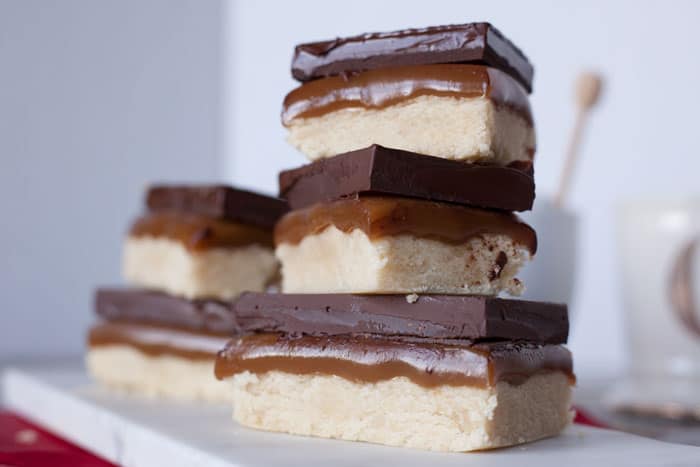 Cream together your butter and sugar with a mixer until light and fluffy.
In a separate bowl, whisk together the flour, baking powder, and salt. Slowly add this to the butter mixture.
Finally, at low speed, add in the milk and vanilla.
Wrap the dough in plastic or store in tupperware. Refrigerate until the dough is as firm as a stick of butter.
Preheat your oven to 350F (180C) and line a loaf pan with parchment paper with one large piece of paper at the bottom and two small pieces at either end.
Roll out the dough and press the dough onto the loaf pan, leaving about a fingers worth of space between the wall of the pan and dough.
Bake for 20 - 30 minutes, turning the baking sheet front-to-back half-way through baking.
Allow to cool and transfer very carefully to a cooling rack.
To temper your chocolate,rest a metal bowl on a saucepan with 1 inch of water in bottom.Make sure the bottom of the bowl is at least 1 inch above the surface of the water - not resting in the water.
Reserve a quarter of the amount of chocolate in a separate bowl to use later.
Bring the water in your saucepan to a SIMMER, not a boil.
Add the remaining chocolate to the bowl and stir it continuously until it has all melted smoothly.
Heat the chocolate to 118F.
Remove the bowl of chocolate from the saucepan, and add in the unmelted chocolate.
Stir until smooth, and keep stirring with your spatula until the temperature of the chocolate reaches 89-90F. If the temperature of your chocolate drops too low, slowly reheat it until it reaches 89-90F again.
Pour some melted chocolate into the tin about 1cm thick. Spoon the chocolate to level it out in the tin to push it out to all the corners.
Pop the tin in the fridge to set.
In a large pot over high heat, bring condensed milk, brown rice syrup, sugar, and vegan butter to a boil, stirring until sugar has dissolved.
Continue to cook over medium-high heat, stirring frequently, until mixture reaches 248F, this should take about 20 minutes.
Remove from heat and immediately stir in 1 teaspoon of vanilla. It's going to bubble up quickly (this is normal) so be prepared to jump out of the way.
Pour the caramel onto the prepared chocolate in the pan and add the layer of shortbread biscuit on top of the caramel.
Pop it back in the fridge to let that caramel set, this should take about 5 hours.
Pour in another layer of melted chocolate, and drop on the counter gently, to allow some chocolate to cover the sides.
Set it in the fridge for about 2 hours or so.
Once it's completely solid, peel off the baking paper and pour on another layer of chocolate all over the top, and smooth out.
Recipe by
The Edgy Veg
at https://www.theedgyveg.com/2016/12/21/millionaires-shortbread-giant-vegan-twix-bar/