Vegan Animal Style Fries | Vegan In & Out Burger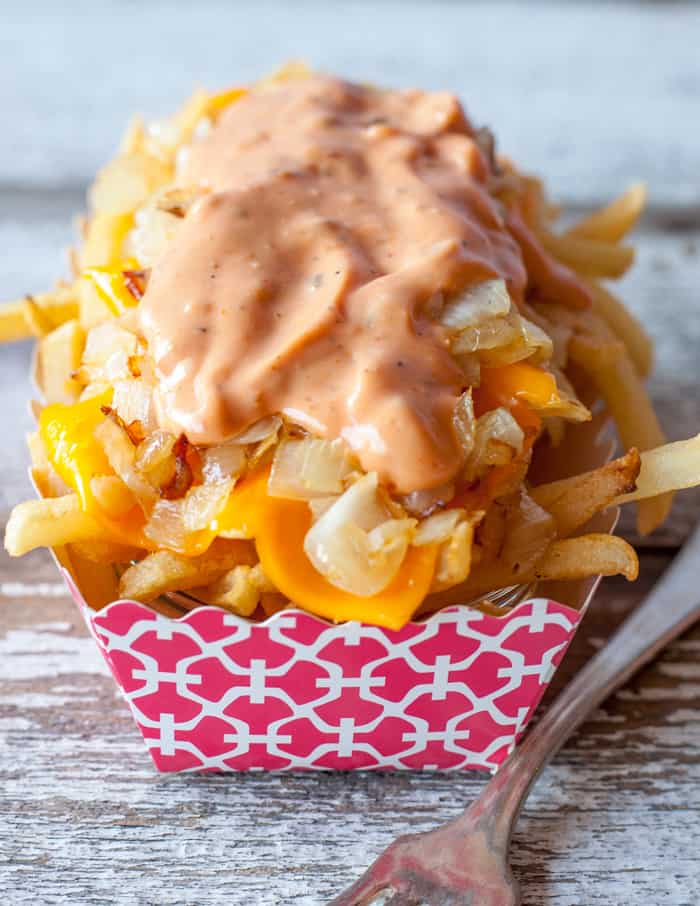 1 package frozen oven-baked fries
4 vegan American-style vegan cheese slices
1 large white onion, fine dice
2 tbsp coconut oil or vegetable oil
Heat oil in a medium pan over medium low heat. Add onion and sauté for about 15 minutes until caramelized and browned.
In a medium-size bowl, whisk together vegan mayo, ketchup, relish, mustard, black pepper, sugar and vinegar to create the Animal Sauce. Refrigerate.
Bake the fries according to the instructions on the package and then immediately toss them into a big bowl with salt and toss to coat.
Place fries into 4 shallow bowl or plates, and top with some of the onions (make surfe to save some for garnish, then a small dollop of the animal sauce. Then place a slice of vegan cheese, more grilled onions and then top it with more animal sauce.
Some vegan cheese has a harder time melting. If this is the case for you, melt cheese in a small sauce pan and top melted cheese over fries with a spoon.
Recipe by
The Edgy Veg
at https://www.theedgyveg.com/2018/06/29/vegan-animal-style-fries-vegan-in-n-out-burger/