Pad Thai Fries | Vegan Recipe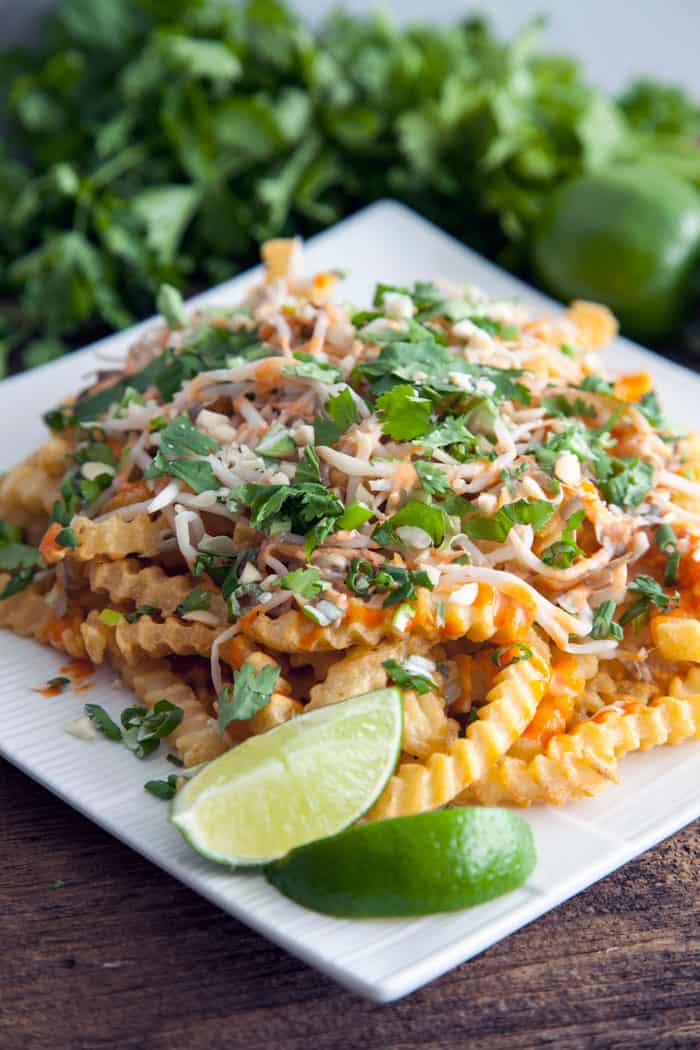 Serves:
2 as a meal, 4 as a snack
1 cup bean sprouts, washed and dried
1 bag French Fries
handful of cilantro, finely chopped
2 green onions, finely chopped
1 Tbsp crushed peanuts, to sprinkle
2 lime wedges
pinch of salt
¼ cup vegan mayo
¼ cup Sriracha sauce
squeeze of lime to taste
Preheat oven to 450F and place fries on a baking sheet. Cook for 15-20 mins.
When fries are golden brown, transfer into a bowl, sprinkle with a pinch of salt and toss to cover.
Place salted fries onto a serving dish.
Top fries with bean sprouts, a drizzle of Sriracha mayo, and top with cilantro and green onion.
Garnish with lime wedges and a sprinkling of crushed peanuts.
Serve with a squeeze of lime and a side of sriracha mayo for dipping.
Mix all ingredients in a bowl and whisk until well combined and transfer to a squeeze bottle to lightly drizzle over fries.
Recipe by
The Edgy Veg
at https://www.theedgyveg.com/2016/05/05/pad-thai-fries-vegan-recipe/