Chick-fil-A Spicy Chicken Sandwich | Vegan Recipe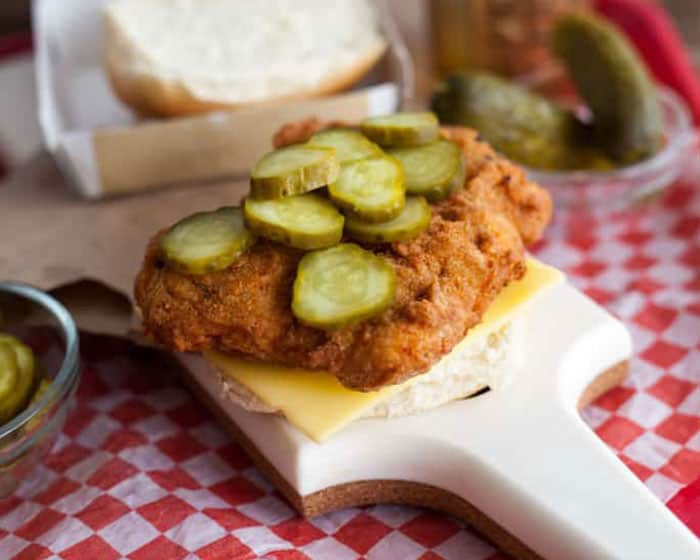 In a mixing bowl, mix together wheat gluten, salt, nutritional yeast, onion powder and poultry seasoning.
In a larger bowl, combine ¾ broth and tahini and whisk until smooth.
Mix the dry ingredients with the wet and stir until well combined.
Knead the dough until it is elastic but not dry. Sprinkle some additional gluten flour if you find you have made your dough too sticky.
Divide the dough into small little burgers. Keep in mind they will grow to about twice their size, so make then smaller then you would normally. Place in a casserole dish, covering them completely with vegetable broth.
Cook burgers in broth for 1 hour at 350 degrees, flipping at 45 minutes. Allow to cool.
Mix together the marinade in a plastic bag or shallow bowl and allow the seitan to soak for an hour.
Mix together pickle juice and almond milk or egg replacer and set aside.
Combine the flour, powdered sugar, paprika, black pepper, cayenne pepper, chilli powder, salt, baking powder, and garlic powder in a medium-sized mixing bowl. Set aside.
Warm the peanut oil in a deep fryer, frying pan or pot over medium heat until you reach 325F.
Toss the seitan "chicken" cutlet into the dry mixture and coat completely, then toss it into the wet, again coating evenly on all sides. Toss into the flour mixture again and coat generously. Repeat with the remaining cutlets and set aside.
Place cutlets into the hot oil using a pair of tongs. Flip occasionally to ensure even cooking. Allow to cook for about 5 to 8 minutes, or until the outside is crisp and golden brown. Allow to drain on a paper towel. Repeat with the remaining cutlets and sprinkle with cayenne pepper to achieve ultimate spicy perfection.
Place your buns in a frying pan over low heat until slightly toasted.
Place vegan cheese on the bottom half of each bun, then top with the fried seitan chicken and top with 4-5 pickle medallions. Serve immediately.
You can also cook your plain seitan in broth on a stovetop, I find that this leaves you with softer seitan. I switch between the two methods depending on my mood.
Serving size:
1 burger
Calories:
784
Fat:
27.7g
Carbohydrates:
91g
Sugar:
14.2g
Protein:
36.5g
Recipe by
The Edgy Veg
at https://www.theedgyveg.com/2016/03/21/chick-fil-chicken-sandwich/