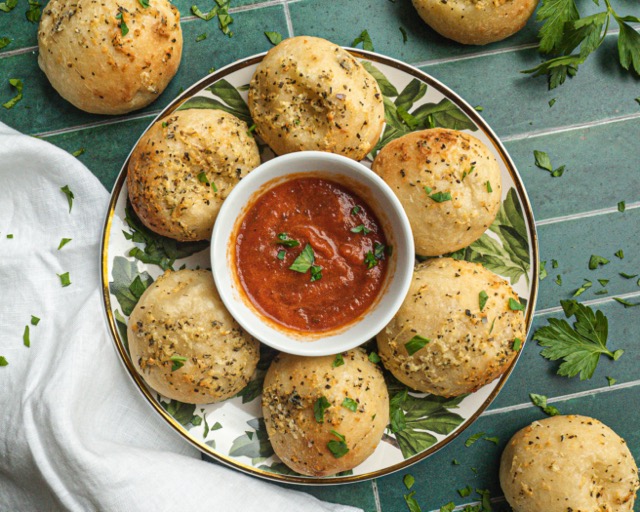 The Cheesiest Stuffed Garlic Bites

Cheese Stuffed Garlic Bites
If you are looking for a finger-licking, delicious cheese recipe, this one is for you! You can make these delicious appetizers for upcoming sports games, movie nights, or for any of your favorite occasions for an extra special night. Whether you have kids or a secret lover, these cheese-stuffed garlic bites are so fun and easy to make and guaranteed to satisfy your cheesy cravings.
Related Recipe: Vegan Breakfast Pastry

 Pro Tips:
You can use any dipping sauce you'd like.
You can either air-fry, deep-fry, or bake this recipe. Ensure to coat the bread with a fair amount of vegan butter when air frying.
You can turn this recipe into any shape – mold it into a square, a cylinder, or even into a large pizza shape!
Other Recipes to pair with this recipe:

INGREDIENTS:
KITCHEN EQUIPMENT:
The Cheesiest Stuffed Garlic Bites
Finger-licking good food brings people together.
Instructions
In a small bowl whisk together butter, grated garlic, basil, and oregano. Set aside.
Preheat your air fryer to 400F, or oven to 350F.
Flour a clean surface and roll out your dough. Knead to form a smooth ball, and then divide the dough into roughly 30-gram balls.
Flatten each ball, wrap it around a cube of cheese, and roll back into a ball.
Oil the bottom of the air fryer, or air fryer pan with cooking spray or oil, and arrange the dough balls about ¼ inch apart. If using an oven, line a baking sheet with parchment or a silicone baking mat.
Brush the top of each dough ball with some garlic butter.
Bake for 5-7 mins, then brush with more garlic butter and bake for another 5 mins, repeat until your balls are golden.
Meanwhile, heat your marinara in a small pot or pan, then transfer to a small bowl.
Brush the balls with the remaining garlic butter, top with coarse sea salt, and serve on a serving plate with the marinara.
Hey welcome to The Edgy Veg – we veganize popular food recipes for vegans, plant-based diets, eco-conscious eaters & people who are trying to eat more plants over… y'know animals or their by-products. We hope you enjoy this tasty vegan recipe!
---
Looking For More Appetizer Recipes?
Made this recipe? Let me know what you think by leaving a ★★★★★ star rating & comment below. It truly helps me & I really appreciate any support! Feel free to share your food photos on social and tag me @edgyveg so I don't miss it!