Easy Vegan Double Chocolate Chip Cookies 2022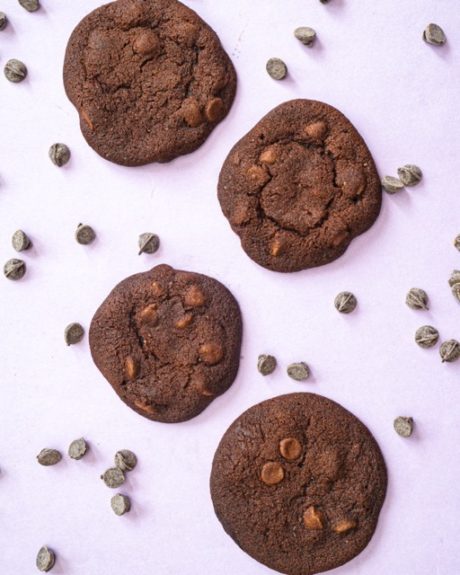 Self-love journey requires a whole lot of patience and vegan desserts. How do I know this? I have been through several turbulent times during my entrepreneurial journey as a recipe creator, and nothing made me feel more connected to myself than creating new and innovative recipes that you guys love and enjoy. It gives me so much joy when I can impact people's lives through my love for cooking. So, this double chocolate cookie recipe is made for anyone who needs a quick recipe for those cozy – let's watch a movie with my dogs (or cat) kind of night!

Pro Tips:
You can always add more crunch with macadamia nuts, almonds, or even your favorite cereal brand.
Make sure to whip aquafaba and vanilla until you get a fluffy texture.
You can always double up on servings to save more for later.
Other Recipes to pair with this recipe:

INGREDIENTS:
KITCHEN EQUIPMENT:
Easy Vegan Double Chocolate Chip Cookies 2022
You can never go with chocolate and cookies. Therefore, we are maximizing our sweet tooth with this vegan double chocolate chip cookies recipe! This is super easy to make and so much less to clean! Making small batches of baked goods is a hack!
Instructions
Preheat the oven to 350F, and line a cookie sheet with a silicone baking mat or parchment.
In a medium-size bowl, cream together vegan butter with both sugars.
Add the aquafaba and vanilla and combine well.
In a separate bowl, stir together flour, cocoa powder, and baking soda.
Add the dry ingredients into the wet and mix.
Fold in the chocolate chips.
Using an 2 tbsp ice cream scoop or a tablespoon scoop the dough and place them on the baking sheet, about 2 inches apart.
Bake for 8-10 mins, or until the center of the cookies are slightly undercooked but edges are set.
Allow cookies to cool on the baking sheet for 10 mins, then transfer to a wire cooling rack.
Hey welcome to The Edgy Veg – we veganize popular food recipes for vegans, plant-based diets, eco-conscious eaters & people who are trying to eat more plants over… y'know animals or their by-products. We hope you enjoy this tasty vegan recipe!
---
Looking For More Easy Dessert Recipes?
Made this recipe? Let me know what you think by leaving a ★★★★★ star rating & comment below. It truly helps me & I really appreciate any support! Feel free to share your food photos on social and tag me @edgyveg so I don't miss it!