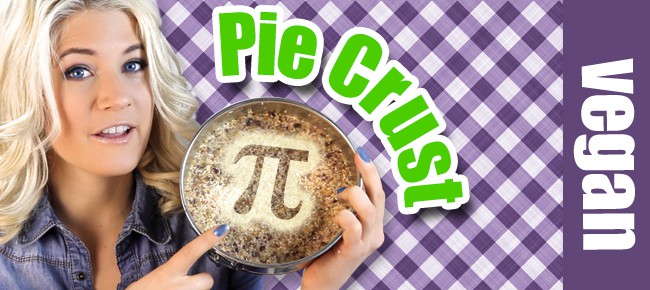 Oh the sweet taste of pie. Pie really  is the ultimate food. Grandma always makes it from scratch with love, but you can also throw it in your friend's face for fun! SURPRISE!
But did you know that just because you aren't eating milk and cheese that you CAN still eat pie?! Try this Raw Vegan Pie Crust recipe for the base of your favourite pie, and turn your pie from "diet no-no" to a  "can I have some moe-moe" — okay that was bad but you get it!
WATCH, CREATE, ENJOY!
[youtube=http://youtu.be/Ykxo2m65iK4]
1 cup dried unsweetened shredded coconut
1 cup dry walnuts, or almonds (not soaked)
4-6 medjool dates
 Pinch of Himalayan rock salt
Place the coconut, walnuts and salt in a food processor and process until your walnuts are broken down, and slightly chunky.
Add dates one at a time while pulsing until the mixture starts to come together when squeezed.  You should be able to see small flecks of dates.
Press into the bottom and up the sides of a 6 inch springform pan, greased with coconut oil.
Place in the freezer to set, and prepare your filling.