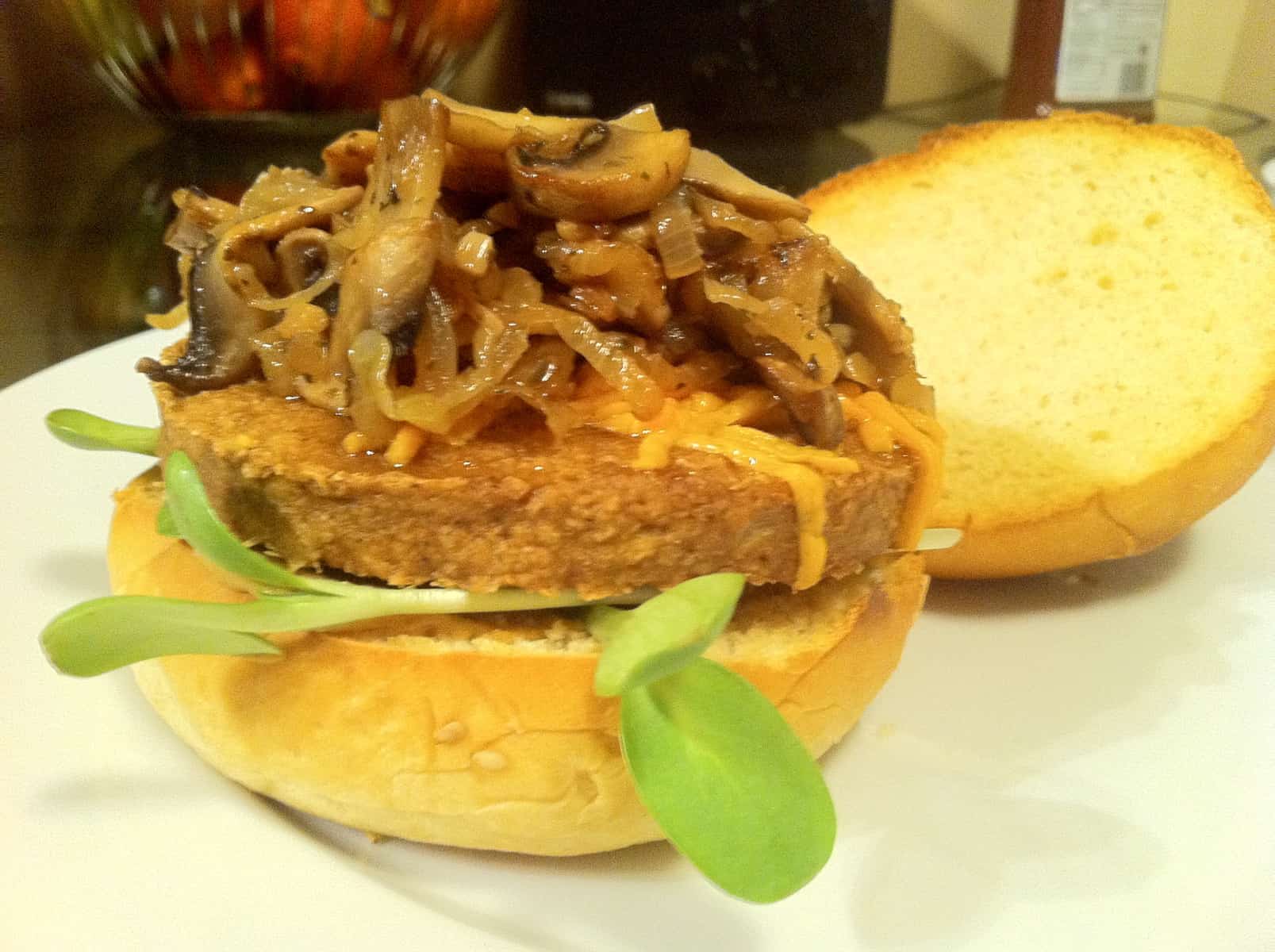 The Sloppy Mushroom Burger
When I was younger I loved to BBQ. This may have been because I lived in the country, but it also may have been that I loved the taste of charcoal. I now know that this is highly carcinogenic, but it is still a lovely memory nonetheless. My mother was always very excited when she could find veggie burgers and veggie dogs at the supermarket. Despite our sideways and doubtful looks she tried her best to make up for the last horrible attempt at a veggie dog we tried.
At was at the age of 14 that I remember finally enjoying a store-bought veggie dog and burger. The name of the brand has since escaped me but this is when I began experimenting with toppings and flavours. I enjoyed the traditional cheese, pickles, ketchup and mustard, but after adopting a vegetarian lifestyle I was always trying out flavour combinations and additions to the seemingly bland burger.
This need to tease my taste buds is how I overcame my personal struggles with transitioning into an all vegan diet. I always think to myself more is better, more toppings, more veg, more sauce, more more more. Variety is key and you will always make friends with toppings.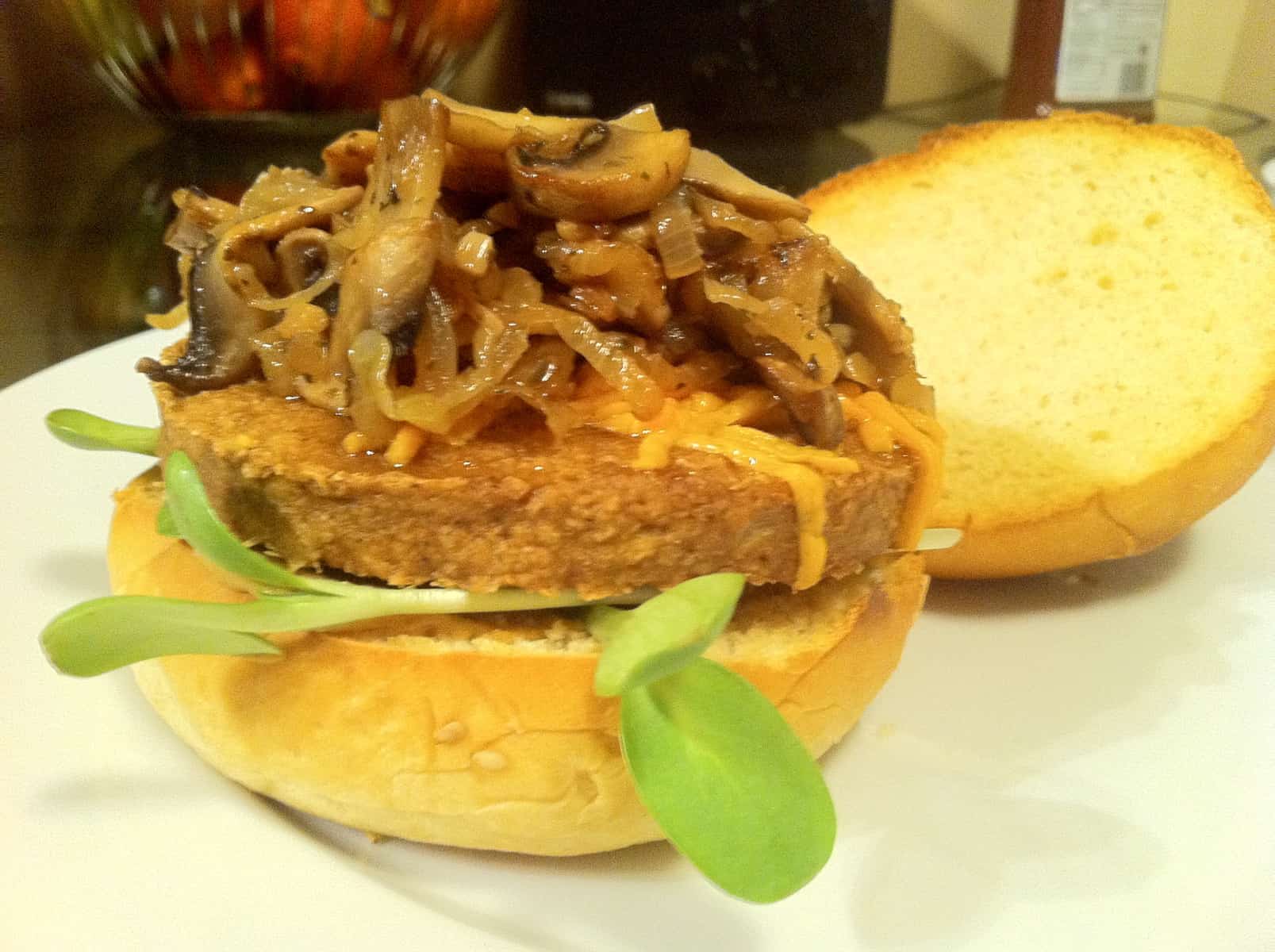 The Sloppy mushroom burger came to be when T decided that he wasn't totally sold on the idea of eating a meatless burger. He was open, but not 100% down with the deal. I thought to myself, meat is merely a vessel for toppings. I am convinced that it is not the missing meat that omnivores fear, but rather a fear of missing flavour. With this idea in mind I come up with this flavour-packed burger using the most flavourful ingredient I could think of– mushrooms, onions, garlic and Dijon… this is the finished product, The Sloppy Mushroom Burger.
3 cups mushrooms, sliced
1 large onion, sliced
3 cloves garlic, minced
Daiya shreds
Sunflower sprouts
Dijon mustard
Kamut sesame seed bun
Veggie burger of your choosing (Sol Cuisine is my favourite)
In a pan over medium heat, cook garlic with 1 tbsp coconut oil for about 2 minutes and add onions. Cook onions on medium heat until they become translucent, about 5 minutes. After 5 minutes turn down to a medium low heat and cook for about 20 minutes to caramelize.
In another pan sauté your mushrooms over medium heat in a pan with coconut oil until soft about 15 minutes. Add to caramelized onions and continue to cook over medium heat for another 10 minutes.
While you are caramelizing your onions you can begin to heat your veggie burger in the stove according to directions.
Once your burger is heated place a desired amount of Daiya onto the top of your kamut bun, place in the oven and toast to your liking. When your bun is toasted, spread the bottom half with mustard, layer with sprouts, add your patty, mushrooms and onions and top bun. Add ketchup if you wish.
Sit down and enjoy this yummy burger with some sparkling water or wine spritzer!