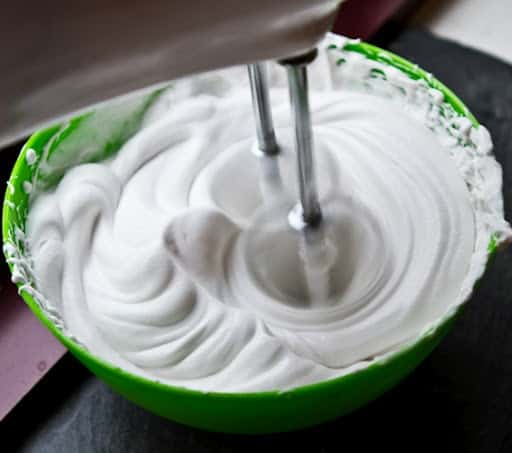 It's shocking to me how may people think that I am deprived in my diet. It's almost as though they think that eating vegan means that I gnaw on carrots and celery all day! Well if you know me as well as I think you do… You will know that at least 45% of my diet is sweet and snacks. I am obsessed with chocolate, and could live off of cakes. — I have a sweet tooth okay, so shoot me! But I also like to jazz up my fresh fruit with coconut cream! This easy raw and vegan coconut cream recipe is a dream in any dessert. It will only take a few minutes to make and you could eat it alone right out of the bowl!
You've Been Warned!

Raw and Vegan Coconut Whipped Cream Recipe
This easy raw and vegan coconut whipped cream recipe is a dream in any dessert.
Ingredients
2 cans full fat coconut milk
2-3 Tbsp maple syrup, to taste
½ tsp pure vanilla extract
Instructions
Place your cans of coconut milk in the fridge overnight. You need to chill the coconut cream until it's very firm. An hour or more is always best. Just before you are about to start this delicious recipe place a mixing bowl in the freezer for 5- 10 minutes. This keeps everything cold.
Take your chilled coconut milk out of the fridge and flip the can upside down. All of the liquid will now at at the top of the can, making it easy to pour out. Open your can and pour the water into a separate bowl (not your chilled one). Then use a cold spoon, and scrape out the solid coconut into your chilled bowl.
Grab a hand mixer, or if you have a stand mixer feel free to use that, and whip the cream until fluffy. Add your sweetener and vanilla and and continue to mix. Add more or less sweetener and vanilla to your liking.
Notes
You can use this just as you would normal whipping cream. In cakes, coffees, various desserts or over fruit!
Check out this recipe where I use coconut whipped cream for a Christmas Treat!
[youtube=http://www.youtube.com/watch?v=NJ3hLtRsE9s&w=560&h=315]