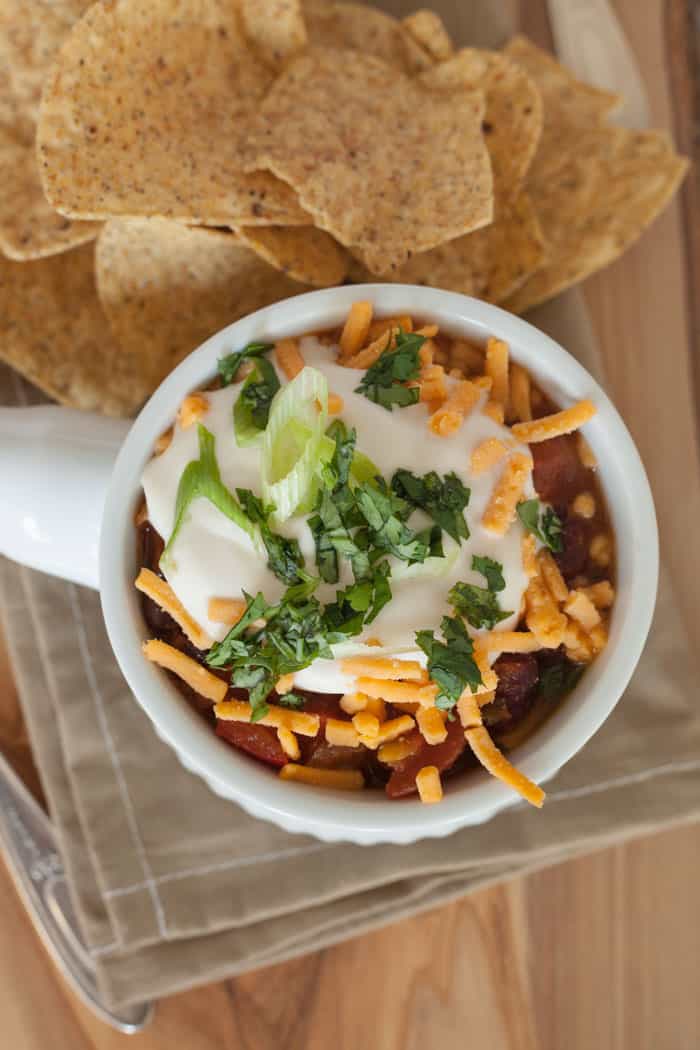 Pumpkin Chili | Vegan | Gluten Free
A hearty vegetarian chili made with 2 types of beans, peppers, and pumpkin in a thick and comforting tomato-based sauce.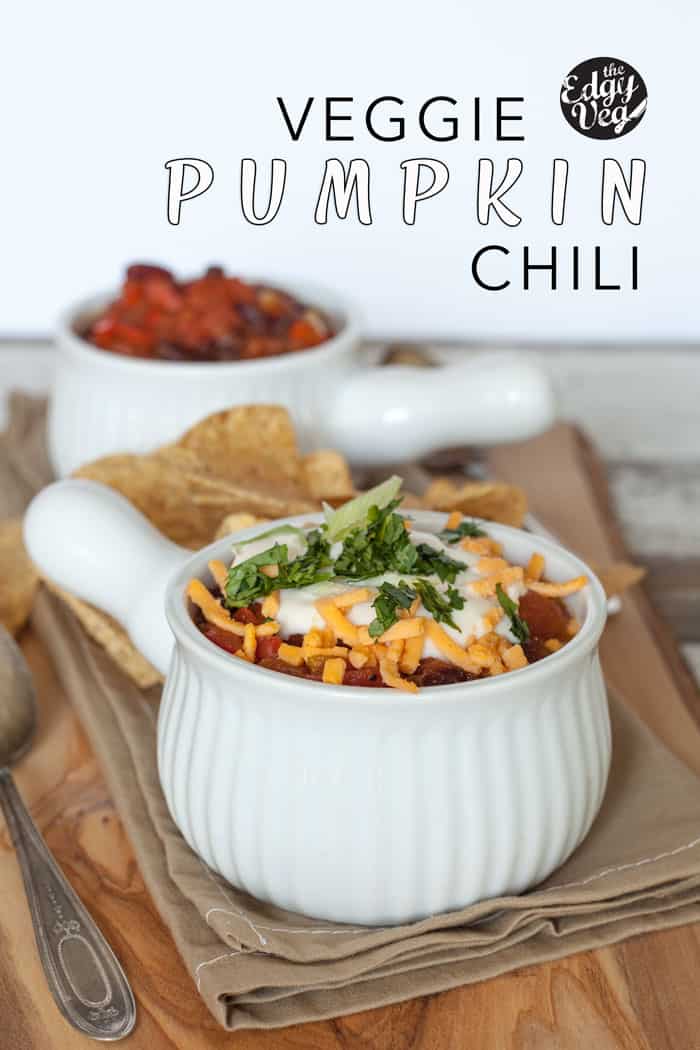 Summer has passed and the leaves are starting to turn. Speaking of turning, everywhere we turn now, we will be smacked in the face with pumpkin and pumpkin spice products. Ah yes, fall, every basic girl's favourite season. It's time to grab your sweater, put on those yoga pants and fuzzy boots and cozy up with an herbal tea while prep this super easy vegan pumpkin chili. The pumpkin in this veggie chili is light and nicely balanced. It gives this traditional recipe a nice and earthy element perfect for Thanksgiving, or when you're just looking for a quick and easy dinner that you can make plenty of, and savour the leftovers for lunch tomorrow. Plus when you're having a lazy night- it can be whipped up in just 30 mins or less! Bonus.
Thanksgiving is always a tough one for my family. We almost always forget what date it is, and I find it creeps up on us pretty quickly- leaving us unprepared and scrambling. Now that I am part of a married family, we always have to split holidays, making them even more difficult. Obviously, we want to accommodate everyone, but sadly our families are all across the country. This year my mother told me that she will be spending Christmas back home in Germany for the first time in 25 years. I could not be happier for her. Spending Christmas in Germany is something that I have always wanted to relive. And so, we decided that this year, we would spend Thanksgiving with her. Since, you know- she'll be gone for Christmas.
My mother is a very reasonable and practical woman. I think I get a lot of that from her. We leave on Friday, and I have been wondering to myself all week what I will bring as my "vegan dinner option". Since I'd rather spend time with my mother catching up than slaving away in a hot kitchen, the idea of a hearty chili came to mind. I know, I know, it's not "traditional" but neither are we. I don't need a fancy meal when I visit my mom over the holidays, I just want to talk and catch up with her and my stepdad and discover all the new projects they're working on. So, I figured, if we could enjoy a one pot meal with minimal clean up, I would have tons of time to play with the dogs and chickens on her property. (They are SO cute!) To make this chili special and not just a boring ol' chili, I thought , why not throw in some pumpkin! It is delicious!
This chili is made with a selection of beans and veggies, coated in a rich tomato base, and just the right amount of spice. It's so easy throw together and only uses one pot, so clean up is easy peasy. Plus, I guarantee that even the meat-lovers in your family will love this dish! Besides adding a lovely earthy and nutty flavor to any dish you add it to, pumpkin also adds a rich amount of vitamin E, A, B6, Iron and dietary fiber. This is a healthier, gluten free and vegan option for an otherwise gluttonous traditional Thanksgiving option. Enjoy!
Pumpkin Chili | Vegan | Gluten Free
This vegan and gluten free chili gets a fall twist with the help of roasted pumpkin! This pumpkin chili is perfect as a a quick and comforting dinner or whip up a batch for a healthier Game Day option.
Ingredients
Optional Toppings:
Instructions
In a large saucepot heat oil over medium high and saute garlic and onions for 3-5 mins or until soft and translucent.
Add red peppers and minced jalapeno and saute for 2 mins or until they look extra bright in colour.
Add cumin, chili pepper and oregano and saute for 1 min, stirring constantly.
Add pumpkin, canned tomatoes, vegetable broth, and both cans of beans, stir and bring to a boil.
Reduce heat to simmer and season with salt and pepper to taste.
Cover and allow to simmer for 20 mins, stirring occasionally.
Uncover and stir in ¼ tsp cinnamon, taste and add more cinnamon, salt or pepper if desired.
To serve, ladle chili into bowls and garnish with any of the above listed optional toppings.