Guinness Cupcakes with Bailey's Buttercream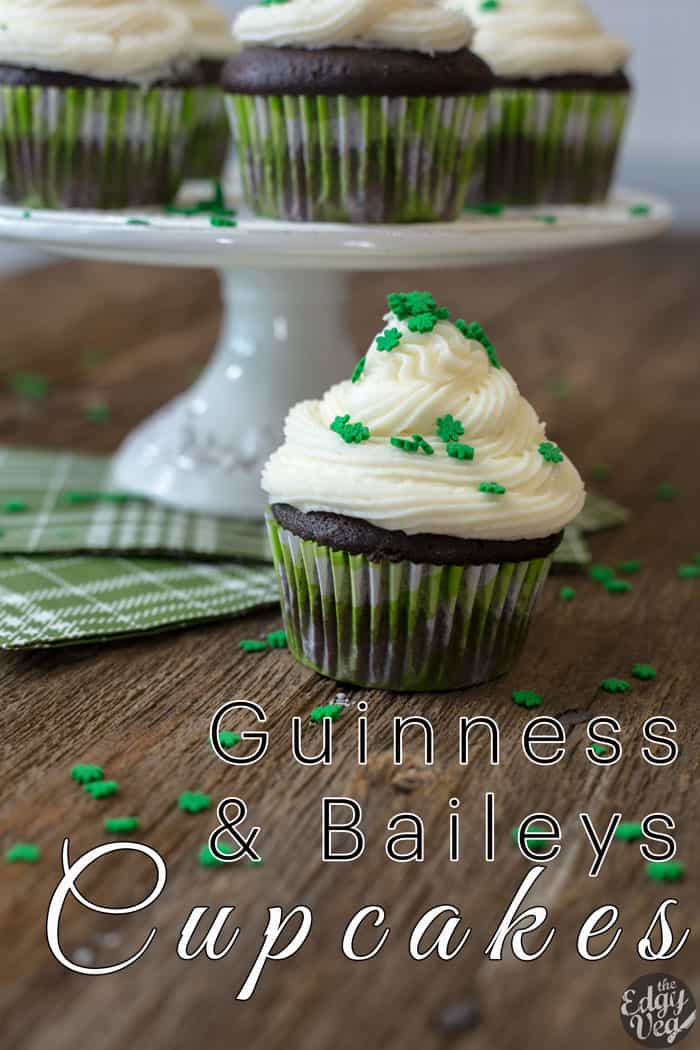 These Guinness & Bailey's cupcakes will have you celebrating St. Patrick's Day in fine style. There is simply no better way to drink your booze and eat your dessert at the same time. Life is all about multi-tasking after all. Guinness Cake is wonderful traditional dessert. Guinness itself is now vegan beer (no animal products), but you can also use any other dark stout beer that you prefer. To find out if your beer of choice is vegan or not simply head over to http://barnivore.com and type in the name of the beer in question and it will tell you. Do this for any alcoholic drink you're curious about.
To make these epic St. Patrick's Day themed cupcakes you are going to start by pouring your beer into a saucepan along with some vegetable oil and heat it up until its boiling. Once you have it boiling add in cocoa powder and whisk it all together, removing from the heat altogether and then set it aside. Now you are going to mix up your dry ingredients.  You will add 1 cup of flour to a mixing bowl along with 1 cup of sugar, 3/4 tsp of baking soda, 1/2 tsp of baking powder and a 1/4 tsp of salt. I think you know what comes next, it's time to whisk that all together as well and then set it aside.
Moving right along, you need to get your wet ingredients together. Add 1 tbsp of flax to a mixing bowl along with 3 tbsp of water and let it sit for about 5 minutes or until it becomes gelatinous. Add in 1/3 cup of plain coconut yogurt, or any other vegan yogurt you prefer, soy, cashew and almond all work. Mix this all together. A stand mixer is an ideal way to go for mixing any of your wet ingredients but you can certainly get the job done with a hand mixer. When that is thoroughly mixed add in the chocolate, beer, and oil concoction that you made earlier. You will give this all another mix until you reach a consistency similar to what you see in the video.
Now that your wet ingredients are ready to go it's time to add in your dry ingredients. Simply pour your bowl of dry ingredients right into the bowl of wet ingredients and whisk or mix that all together. When it comes to baking you can always expect a lot of whisking and this recipe is certainly no exception. The bonus to having a stand mixer in recipes like this is that it makes the whisking effortless. When you're done whisking you now have your batter. Yahoo!
Get out your cupcake pan and put your cupcake liners in it then carefully fill each liner 3/4 of the way full with your batter as they are going to rise and you will want to have a little extra room. Bake them at 350F for 22 minutes. While these cupcakes are baking you are going to make your frosting. What kind of cupcakes would these be without frosting? or you could just, ya know… drink the leftover beer, it's up to you!
To create your frosting, add 1/2 cup of room temperature vegan butter to a mixing bowl and whisk it until it's fluffy. To that, you will add 3 cups of confectioners' sugar in half cup intervals whisking a bit between each one. Your next step will be to add 3 tbsp of Vegan Bailey's Irish Cream. You can pick up Vegan Bailey's at your local liquor store or make your own following my recipe! Once you have that added whisk this all together well. You'll know it's time to stop whisking when your ingredients strongly resemble a nice white fluffy frosting. Fill a pastry tube with your frosting and refrigerate until your cupcakes are done and ready.
When your cupcakes are done pull them out and let them cool. It is of crucial importance that your cupcakes are cool to the touch or your frosting will melt when you put it on them leaving a huge ugly, sticky mess. Once your cupcakes have properly cooled decorate them! When you're done throw some shamrock sprinkles on top to really cement that St. Patrick's Day vibe.
NOTES: Use natural food colourings to jazz up this recipe for any holiday or occasion! Just add these natural ingredients 1/4 tsp at a time until the desired colour is reached.
Green: liquid chlorophyll or spirulina powder
Pink: beet juice
Yellow: turmeric powder
Purple: blueberry juice

Vegan Guinness Chocolate Cupcakes with Bailey's Buttercream
Adult cupcakes made with Irish stout and chocolate for a rich and dark, velvety dessert. Topped with creamy Bailey's buttercream, these vegan Guinness cupcakes are the perfect treat to bring to a St Patrick's day party!
Ingredients
Vegan Baileys frosting:
Instructions
Preheat oven to 350F and line cupcake pan with liners. Use green ones for extra festiveness.
In a medium saucepan combine stout and vegetable oil and bring to a boil. Reduce to a simmer and whisk in cocoa powder until smooth. Remove from heat and set aside.
In a medium mixing bowl sift together flour, sugar baking soda, baking powder and salt. Set aside.
In a large mixing bowl whisk together flax and water and set aside for 5 mins.
Add yogurt and whisk until smooth, slowly adding in the beer mixture.
Fold the flour into the batter until combined.
Pour batter into liners, filling them ¾ of the way. Baking for 20- 22 minutes or until a toothpick comes out clean when inserted. Transfer to cooling racks and allow to cool for 30 mins or until cooled completely.
Make the frosting:
Using a stand mixer or hand mixer, beat butter until light and fluffy.
On low, add sugar ½ cup at a time, beating between additions to avoid sugar from dusting all over the counter.
Beat in vegan Irish cream and beat until mixture is smooth and spreadable. If it's too thick, add 1-2 tbsp Baileys to thin out. If too thin add more sugar 1-2 tbsp at a time.