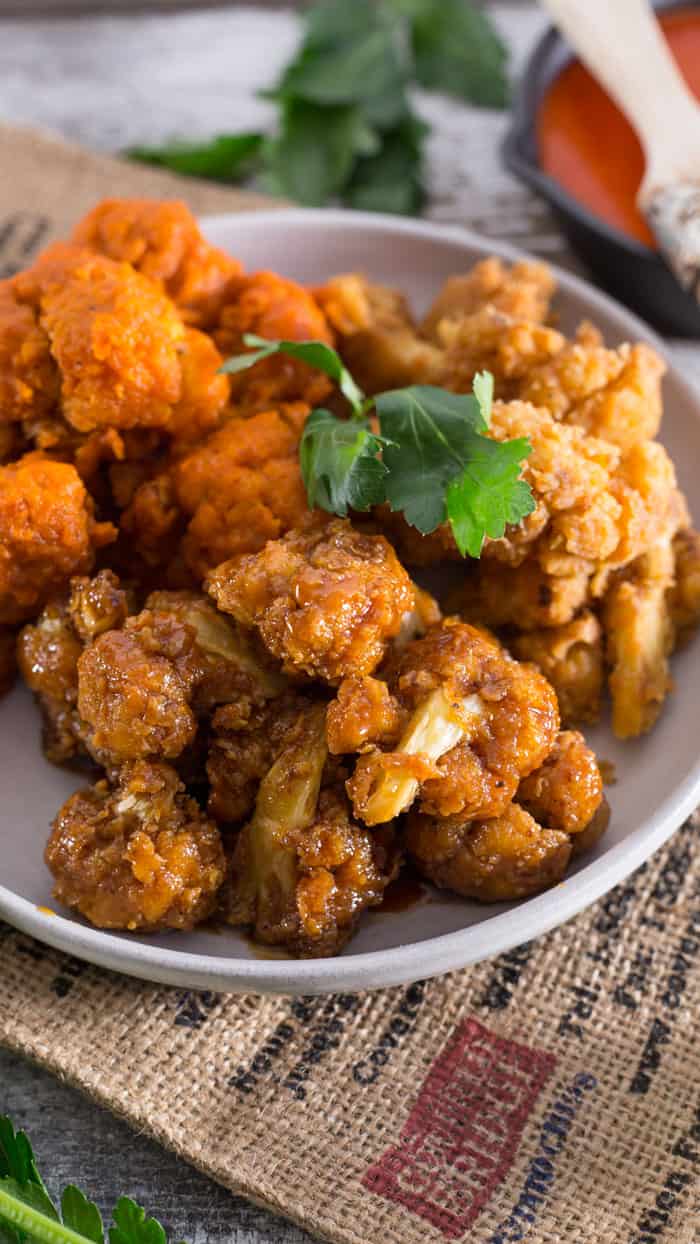 Buffalo Cauliflower Wings with Vegan Ranch Dip
Are there really any of you out there that don't like a well made, properly sauced Buffalo Chicken Wing? Obviously not, I mean, what kind of person are you if you don't like sticky, messy hot wings!? I certainly wouldn't trust ya…
During one of our recent "What I Eat in a Day" segments I made up this deep fried cauliflower wings recipe on the spot as part of my lunch. It was insanely yummers, and after an overwhelming response from viewers asking for an entire video dedicated to the recipe, I decided it was time to deliver. Did I come up with this concept, nope, but am I the first one to deep fry these awesome vegan cauliflower wings instead of bake them? You betcha!
These are a serious crowd pleaser in our home. I can't make a batch fast enough to keep up with the neighbours and roommates that come over just for these bad boys. They're not even over to visit me, they're just here for the wings. And, to be honest—I don't blame them. These guys are one of the best creations to come out of this carnivore approved kitchen. I've made them for large groups of people at Toronto Veg Fest, for potlucks over at Kin Community, and they are the star of the show at any get together I host. I am certain that these obey gooey sticky buffalo cauliflower wings will end up in your go-to recipe book as well.
If you're looking for a "healthier" or "lower calorie" version, I highly recommend these air-fried cauliflower bites!
Your first step in the creation of your Buffalo Cauliflower Wings is to cut up your head of Cauliflower. Be creative with your cuts and you can easily get pieces of cauliflower that look like chicken wings, perfect for the task at hand.
Once you have your cauliflower cut up you are going to lay it out on a parchment paper lined baking sheet and drizzle it with olive oil mixing it around with your hands as you go being sure to get an even coating. Next, you will put these into the oven for about 30 minutes at 425'F. While those cook it's time to focus on your dredging, more commonly referred to as breading or possibly even batter. Regardless of what you choose to call it you're going to dip your cauliflower wings in it and deep fry them.
The first part you need to take care of to create the batter you will bread your cauliflower in will be getting your wet ingredients together. Start this off by making your vegan buttermilk. In a mixing bowl combine almond milk and a tbsp of apple cider vinegar then whisk the two together thoroughly and let the mixture sit for about 5 minutes. After letting it sit add in your egg replacer. This gives the mixture a much needed binding effect, whisk this in thoroughly as well. That completes your wet ingredients.
For your dry ingredients you will need to get another mixing bowl and add 2 cups of flower, paprika, pepper, onion powder, garlic powder, and finally salt. I think you know what comes next, start whisking. Now take your cauliflower out of the oven and put it directly into the dry ingredients you just whisked and toss them in it getting an even coating of your flour mixture on them. Then you will put them into your wet ingredients and mix them around thoroughly, and finally back into your dry ingredients one last time. This double breading technique is the secret to truly crispy, delectable Buffalo Cauliflower Wings.
You now have breaded wings ready to go into the deep fryer. Add a fair amount to your basket and start frying. If you don't have a deep fryer you can use a deep pan with quite a bit of oil in it on a high temperature, but keep in mind this is a great way to start a kitchen fire and a deep fryer is a much better way to go. Cook your wings until they reach a nice golden brown texture.
At this point you can choose the flavour of your wings. I have included some options below, and of course don't forget about my famous vegan buffalo sauce. If you're into dipping, you will also see a recipe for the easiest ranch sauce you will ever make!
Wing Flavour Variations
Five-Alarm: Make classic buffalo sauce and add 1 tsp cayenne and 1 tbsp habanero hot sauce
Jerk: After frying wings, dust with dried garlic, onion and thyme and toss with a vegan jerk paste
BBQ: Simple heat your favourite BBQ sauce on in a pan, and toss with wings
Old Bay: Dredge in flour mixed with 4 tablespoons Old Bay. Serve with lemon wedges
Jalapeno-Cheddar: Make classic buffalo sauce and add 1/2 cup chopped pickled jalapenos or banana peppers and 1 cup of your favourite vegan shredded cheddar
Spicy Moroccan: to a pan add 1/4 cup harissa , 1/4 cup cider vinegar and heat. Serve with 1 cup plain coconut yogurt mixed with 2 tbsp olive oil and 2 tbsp chopped mint