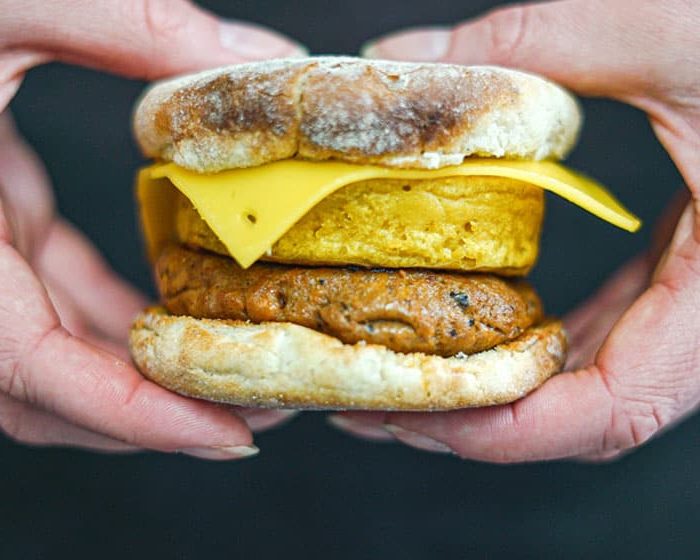 Vegan McDonald's Sausage Egg McMuffin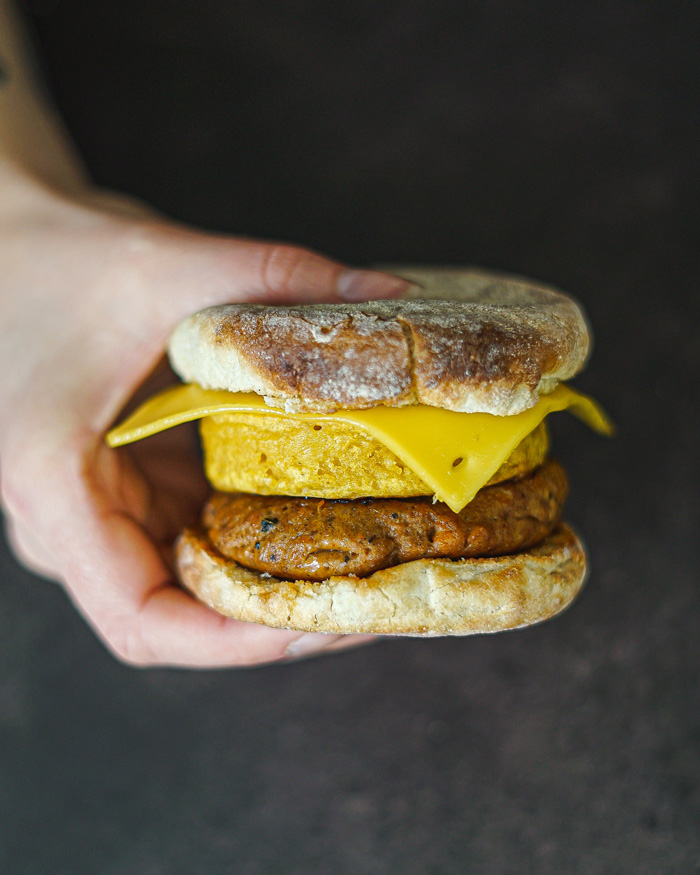 The sausage egg McMuffin–breakfast of champions for so many North Americans.
Personally, the Golden Arches just don't cry out to me first thing in the morning, especially when something so simple can be made at home. The parts of this sandwich can be made ahead and kept in the fridge or freezer for a quick breakfast sandwich at home. Bonus points if you include a hashbrown on the side.
This vegan egg is made of mung beans, with some clever spices to give it a real "eggy flavour".  Since that's what JUST Egg is made of, I thought "why can't it be done at home?" Spoiler alert: IT CAN! And it's much more affordable and accessible too. But you could also use Just Egg foldable.
The homemade sausage recipe can be found here or you can use your favourite store-bought version. Just defrost the vegan sausage and form it into a perfectly round shape. Build this bad boy and see how easy it is to replicate these fast-food icons breakfast best seller! I'll take this over McDonald's any day.
Related Recipe: Vegan McDonalds Recipes
INGREDIENTS FOR VEGAN SAUSAGE & EGG MCMUFFIN:
For the "Egg":
For the Sandwich:
KITCHEN EQUIPMENT I USED:
Sausage and Egg McMuffin
Ingredients
For the "Egg":
For the Sandwich:
Your favourite vegan sausage
Instructions
"Egg"
Using your food processor or blender, blend mungbeans or lentils, nutritional yeast, turmeric, garlic powder, black salt, soft tofu, and cornstarch. Scraping down the sides as needed. Add water if it needs help blending.
Preheat a large, skillet over medium-high heat, with a small amount of oil or vegan butter, and grease a round egg ring, pastry ring, or the ring of a mason jar.
Place the ring onto the skillet, and scoop the egg batter into it.
Cover the ring / skillet pan for about 5 minutes, or until the top of the batter look slightly dry.
Meanwhile, heat your sausage, and toast your English muffins.
When the underside of the egg develops light brown marks, flip it, top with cheese and cook for a couple more minutes.
Top one-half of the English muffin with sausage, and top with the cheese-covered egg.
Add ketchup or hot sauce if you want, then top with the second half of the muffin.
Enjoy!
Nutrition Information
Serving size:
1 sandwich
Calories:
460
Fat:
18g
Carbohydrates:
37g
Sugar:
3g
Fiber:
5.6g
Protein:
34g
---
Hey I'm Candice aka The Edgy Veg – I veganize popular food recipes for vegans, plant-based diets, eco-conscious eaters & people who are trying to eat more plants over… y'know animals or their by-products. I hope you enjoy this tasty vegan recipe!
---
Looking For More Vegan Breakfast Recipes?
Made this recipe? Let me know what you think by leaving a ★★★★★ star rating & comment below. It truly helps me & I really appreciate any support! Feel free to share your food photos on social and tag me @edgyveg so I don't miss it! 
Share My Recipe on Pinterest!